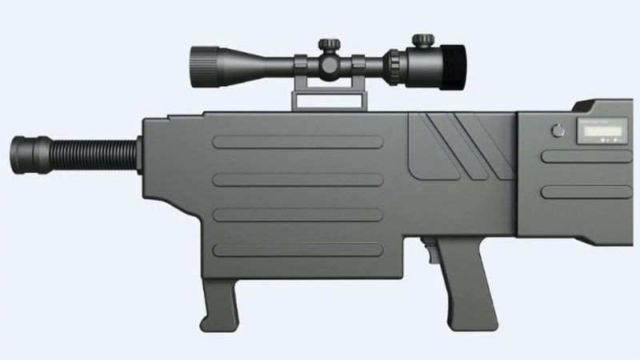 Chinese military has built compact laser-firing AK-47s capable of hitting a target from a kilometer away.
This compact Chinese laser weapon, weighing around three kilos, capable of firing from about a kilometer away, can burn through clothes, causing 'instant carbonisation' of human skin. According to one scientist at Xian Institute of Optics and Precision Mechanics, the pain caused by this weapon will be "beyond endurance."
Above, the ZKZM-500 laser assault rifle.  Credit Press handout from ZKZM Laser
In the event of a hostage situation it could be used to fire through windows at targets and temporarily disable the kidnappers while other units move in to rescue their captives.

It could also be used in covert military operations. The beam is powerful enough to burn through a gas tank and ignite the fuel storage facility in a military airport.
One laser weapons specialist said that the weapon can "burn through clothes in a split second … If the fabric is flammable, the whole person will be set on fire."
via dalymail