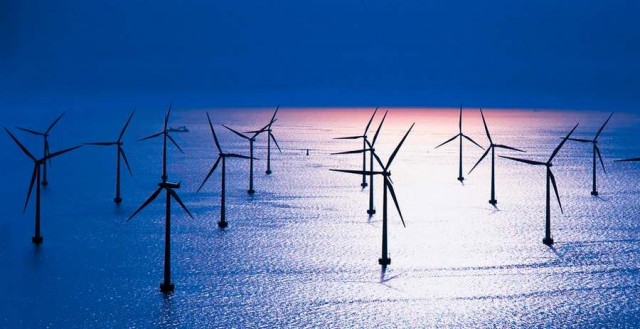 Deepwater Wind has announced that will build America's first offshore wind farm, just off the coast of Rhode Island.
Deepwater Wind Block Island, a subsidiary of Deepwater Wind, has fully financed the Block Island Wind Farm, reaching financial close on more than $290 million in project financing.
The company will construct and operate its five floating 6 megawatt offshore wind turbines, producing total 30 megawatt, already under construction.
Deepwater Wind CEO Jeffrey Grybowski, said:
"We're ecstatic to reach financial close and thrilled to be partners with Societe Generale and KeyBank for this groundbreaking clean energy project. We're full speed ahead and moving ever closer to 'steel in the water."
Alexander Krolick, Director of Energy Project Finance in the Americas at Societe Generale, said:
"We at Societe Generale are proud to be a partner of Deepwater Wind, the U.S. leader in offshore wind power. Deepwater has assembled a world class management team and experienced contractors to develop this landmark project. As the first offshore wind farm to be developed in the U.S., the Block Island Wind Farm represents a milestone that expands SG's offshore wind sector footprint outside of Europe and further strengthens our extensive global track record of advising clients and arranging debt for offshore wind projects."
source Deepwater Wind