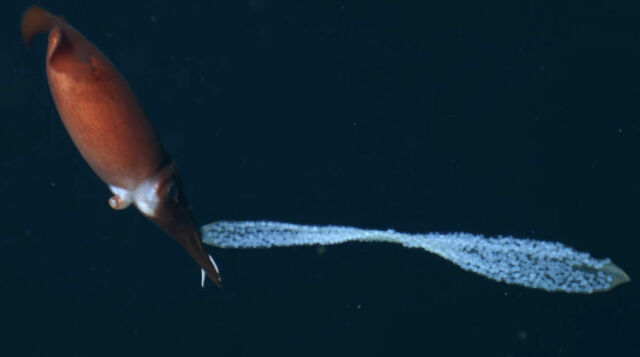 An incredibly rare sight: In this video a deep-sea squid mom carries eggs to keep them safe from predators.
During a recent deep-sea dive, MBARI researchers encountered this rare sight—a deep-sea squid (Bathyteuthis sp.) grasping hundreds of eggs in her arms.
This squid mom was spotted at 1,390 meters (4,560 feet) deep more than 90 kilometers (56 miles) offshore of MBARI's facilities in Moss Landing, CA.
The stunning ultra high-definition resolution 4K video from the remotely operated vehicle (ROV) Doc Ricketts allows researchers to examine the pelagic parent in astounding detail.
[Youtube]