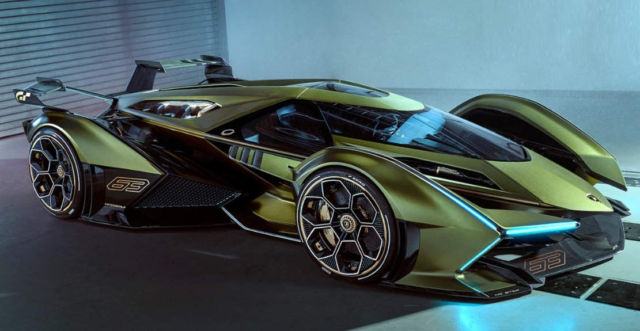 Lambo V12 Vision Gran Turismo visionary concept, comes to life at the Festival Automobile International 2020 in Paris.
Lamborghini's newest concept car has just been unveiled and it's ready to hit the track, this time a slightly different one.
The Lambo V12 Vision Gran Turismo has made its debut ahead of the World Finals of the 2019 FIA Certified Gran Turismo Championships taking place in Monte Carlo, Monaco this weekend, and will enable you to experience the 'fun to drive' in the iconic racing game Gran Turismo Sport for Sony PlayStation 4, where it will be virtually available from spring 2020.
Stefano Domenicali, Chairman and CEO of Automobili Lamborghini commented: "Lamborghini is a very young brand, and this is why we are here today to present our newest virtual vision in the form of a real model, with a highly futuristic and cool design to be enjoyed by the young generation of racing game and super sports car enthusiasts."
"The Lambo V12 Vision Gran Turismo is created to provide the ultimate virtual car for young fans and gamers, who are ultra-enthusiastic about Lamborghini and its futuristic aspirations," said Mitja Borkert, Head of Lamborghini Centro Stile. "It is an opportunity for Lamborghini's design talent to stretch its wings and visualize a car that, like every Lamborghini, not only is a head-turner and the best driving experience, but also mirrors Lamborghini's push on future technologies, particularly in the arena of lightweight materials and hybridization."
source Lamborghini