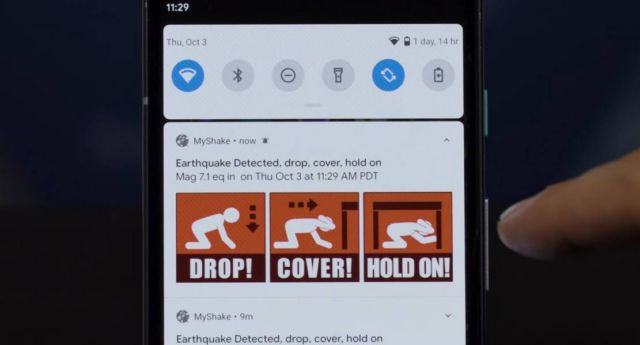 California rolls out first state-wide earthquake early warning system on UC Berkeley's "MyShake" smartphone app.
Gov. Gavin Newsom announced the debut of a statewide earthquake early warning system that will deliver alerts to people's cellphones through an app developed at the University of California, Berkeley.
The app, called MyShake, can provide seconds of warning before the ground starts to shake from a nearby quake — enough time to drop, cover and hold on to prevent injury.
The app is now available for download to cellphones or tablets through iTunes for iPhones and through GooglePlay stores for Android phones.
The early warning alerts, called "ShakeAlerts," are being offered to everyone in the state of California — resident and visitors alike — through MyShake, as long as they allow the app to access their location. In the event of a quake, people's phones will deliver the audio message, "Earthquake! Drop, cover and hold on. Shaking expected."
The state-wide system will be operated by the California Governor's Office of Emergency Services (CalOES) under the trademarked name California Earthquake Early Warning System/ShakeAlert, or CEEWS/ShakeAlert.
Initially, MyShake will deliver alerts to people for quakes exceeding magnitude 4.5 that will produce a shaking intensity in their area greater than level III on the modified Mercalli scale: a threshold at which most people will feel the shaking if they are indoors, similar to feeling vibrations from a truck driving by on the street. Once the app has been tested, the developers plan to create a two-tier system, adding a more urgent message for those likely to experience a shaking intensity greater than IV, which is more like a truck hitting your building.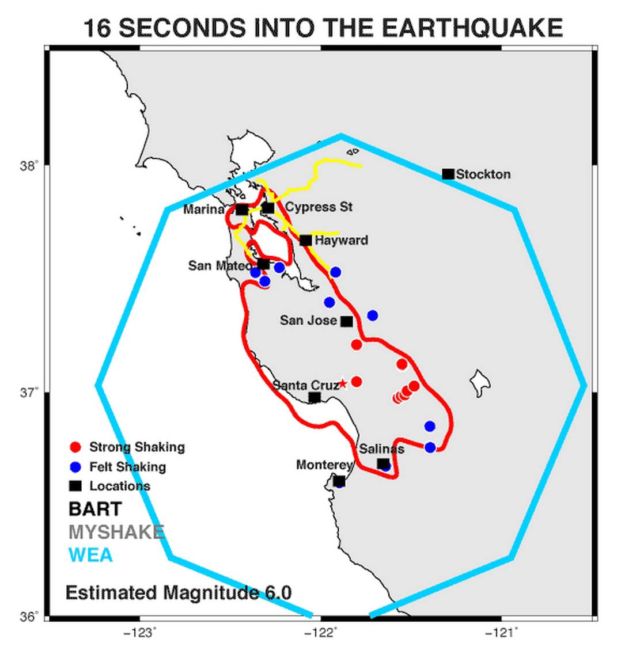 For those without mobile phones, the ShakeAlert system also will send out alerts through the Wireless Emergency Alert, or WEA system — what most people refer to as Amber Alerts. However, that system has an inherent delay of about 13 seconds after U.S.G.S. ShakeAlert computers confirm a quake, a process that itself can take from 3 to 10 seconds. MyShake has been demonstrated to have a 3.7 second delay, meaning Californians could get an alert as soon as 6 seconds after a fault rupture.
MyShake, which has been funded since June by $1.5 million over two years from CalOES after five years of start-up funding from the Moore Foundation. Allen's team also wrote ShakeAlert's core algorithm that analyzes data from the state-wide network of earthquake sensors and makes the initial calculations of magnitude and estimates of shaking intensity.
source UC Berkeley, USGS