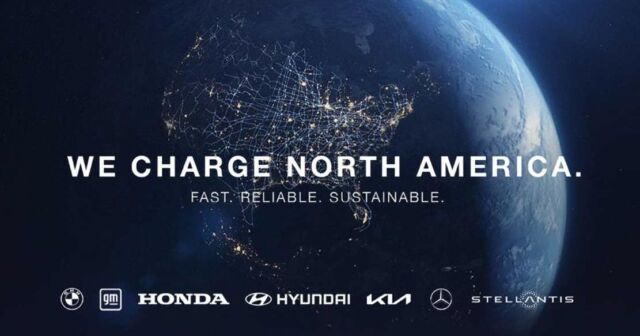 Seven automakers unite to create the largest high-powered EV charging network across North America.
Mercedes Benz, BMW Group, General Motors, Honda, Hyundai, Kia, Mercedes- Benz Group, and Stellantis NV, to create a high-powered electric vehicle charging network in the USA.
The joint venture aims to become the leading network of reliable high-powered charging stations in North America.
Targeting to install at least 30,000 high-powered charge points in urban and highway locations to ensure customers can charge whenever and wherever they need.
With a focus on delivering an elevated customer experience, the network will provide reliability, high-powered charging capability, digital integration, appealing locations, various amenities while charging, and use renewable energy.
Charging stations will be accessible to all EV customers, offering both Combined Charging System (CCS) and North American Charging Standard (NACS) connectors.
The first stations are expected to open in the United States in the summer of 2024 and in Canada at a later stage. Each site will be equipped with multiple high-powered DC chargers, making long-distance journeys easier for customers. In line with the sustainability strategies of all seven automakers, the joint venture intends to power the charging network solely by renewable energy.
source Mercedes Benz