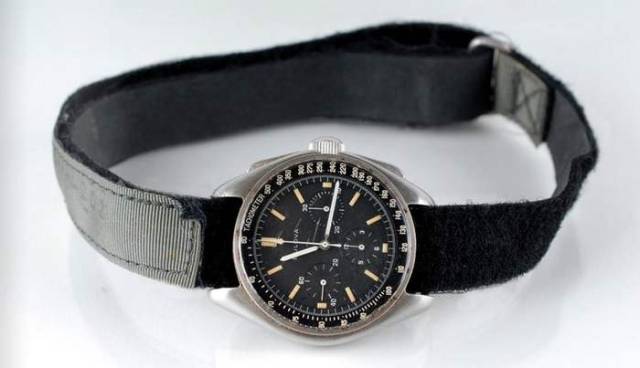 The unique Bulova wrist Chronograph watch worn on the Moon in 1971, by Commander of Apollo 15 David Scott, sold at auction for US$1,625,000.
The astronauts that have stepped foot on the Moon, all have worn the standard Omega chronographs.
Above: The Bulova Wrist Chronograph worn by Commander David Scott on the Moon.  Credit: RR Auction
A rare distinction that leaves Commander Scott's here-offered EVA-3-worn Bulova Chronograph as the singular lunar surface watch in private hands.
The Bulova wrist Chronograph timepiece, that looks like the early Omega Speedmaster Chronograph, made available here for the first time, is an astounding specimen rife with aeronautical and horological history—a key piece inherent to Apollo 15's success.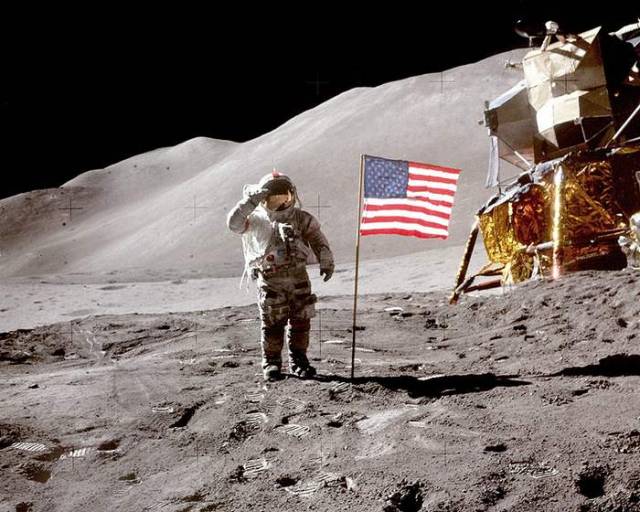 Apollo 15 Photo Dave Scott Salute.   Credit NASA
"Among the decisions I made, the monitoring of time was perhaps most important"
Images credit: RR Auction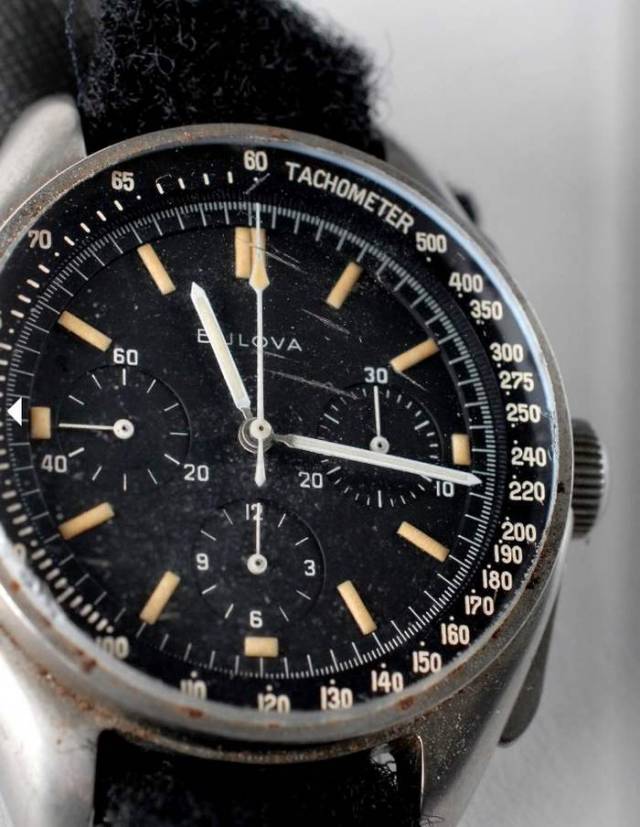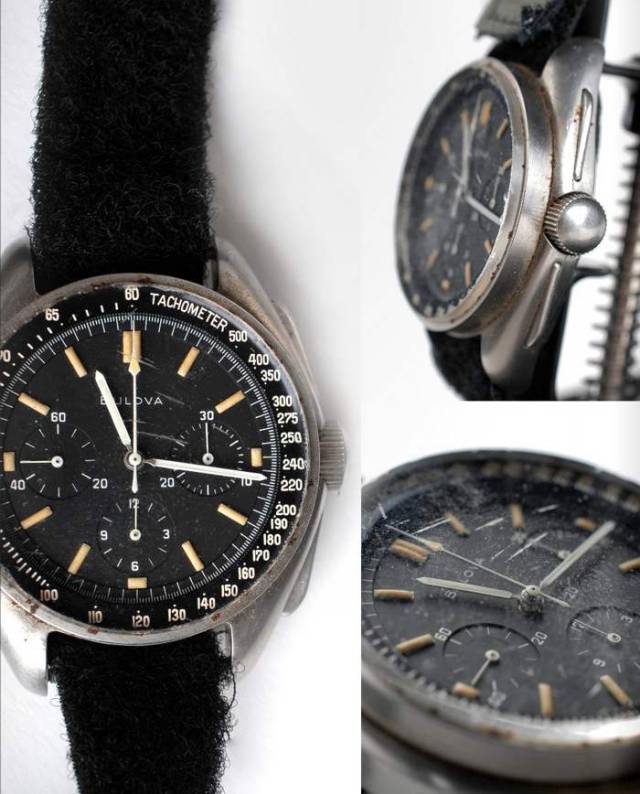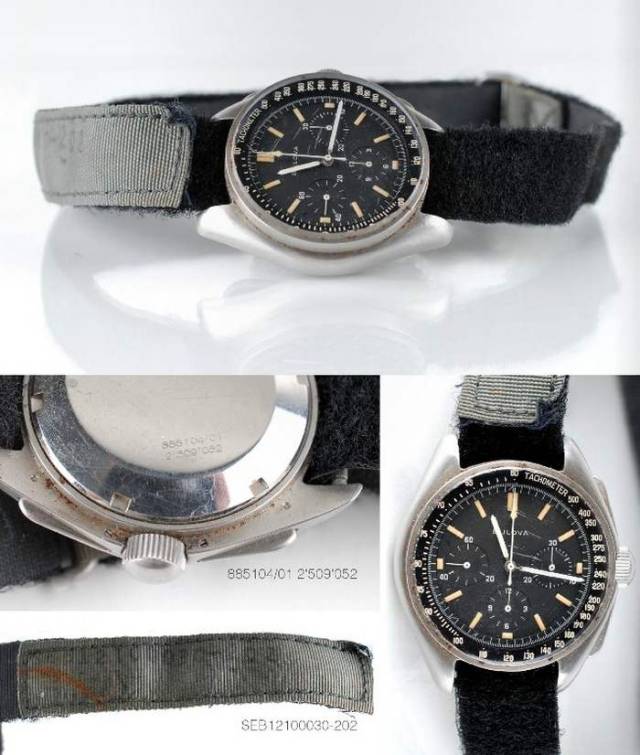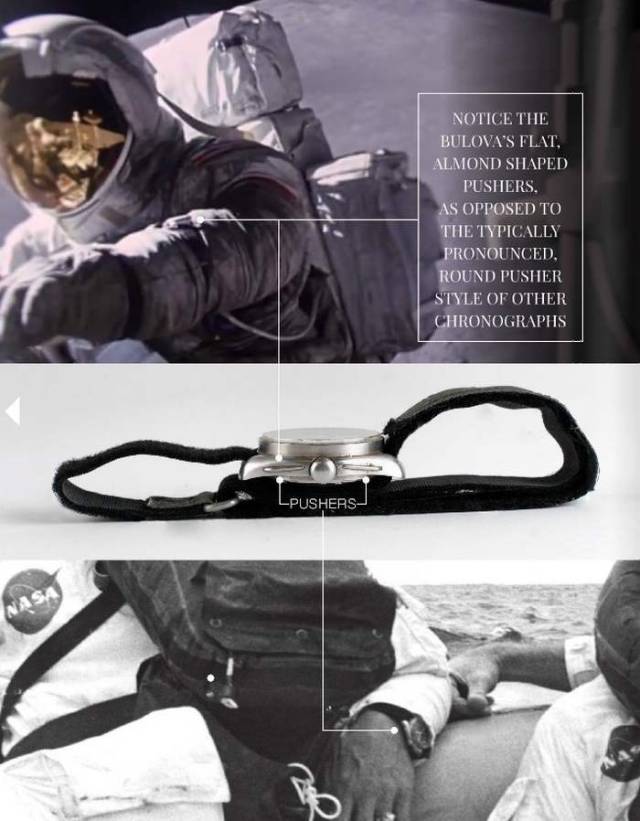 BULOVA WRIST CHRONOGRAPH, model NUMBER 885104/01 2'509'052.
The Bulova Chronograph Worn by Scott on EVA-3 On his wrist as Commander Scott saluted the American flag at the start of EVA-3, was this invaluable Bulova Chronograph

[ADD NASA PHOTO ID]. Apollo 15's third and final lunar surface traverse was perhaps the most reliant on its time expenditure, with Dave Scott and Jim Irwin conscientiously balancing their resources before departure. Their objectives on EVA-3 included exploration and specimen collection at Hadley Rille which verified significant volcanic layering, stereo photography at 'Station 10,' and Commander Scott's iconic 'Galileo Test.' The conclusion of EVA-3 required sufficient time to depart the Moon and rendezvous with the CSM in lunar orbit and the availability of the Bulova ensured that both the crew and Mission Control had confidence that the Lunar Module would depart successfully.

In-Depth Documentation from Apollo 15 Commander Dave Scott This awe-inspiring chronograph comes directly from the man who wore it on the Moon and is accompanied by his detailed five-page letter of authenticity confirming its background story and mission use. Colonel David R. Scott—Gemini 8 Pilot, Apollo 9 CMP, Apollo 15 CDR—amassed a combined 546 hours in space, was the seventh man to walk on the Moon and the first astronaut to operate the Lunar Rover on the Moon's surface. An excerpt from Scott's letter reads: "The Bulova Lunar EVA (Wrist) Chronograph and attached velcro wrist strap…was worn by me on the lunar surface during the third EVA of Apollo 15, and then in lunar orbit and return to Earth…The primary use of the wrist chronograph on the surface of the Moon was to track…the elapsed time of consumables use (oxygen, water, and battery) in the Portable Life Support System (PLSS) backpack…Our mission was to basically double the capabilities and requirements of previous missions, including especially the duration of EVAs outside the Lunar Module…At the moment of liftoff, I was fully responsible for the mission and the safety of my crew…Among the decisions I made, the monitoring and use of time was perhaps the most important…Time is of the essence during human lunar expeditions—and exploration time on the surface is limited by the oxygen and water (for cooling) we can carry in our backpacks…Knowledge of precise time remaining was essential…as a backup to the standard issued Omega chronograph, I carried and used a Bulova chronograph on the lunar surface…this unique strap was…worn during…each of my three EVAs on the lunar surface."

source RRauction