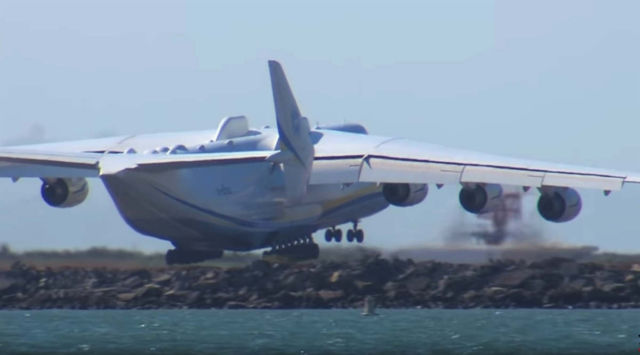 Watch the Antonov An-225 Mriya landing at the Oakland, California, International Airport (runway 30) on September 9th 2018 at about 4:30 PM.
"I believe the aircraft was hired by the US Government (FEMA) to pick up relief supplies in Hawaii and deliver them to Guam for the Super Typhoon Mangkhut relief effort. It stopped in Oakland California for fuel on its flight from its base in Kiev."
The Antonov An-225 Mriya (Ukrainian: Антонов Ан-225 Мрія, lit. 'dream' or 'inspiration', NATO reporting name: "Cossack") is a strategic airlift cargo aircraft that was designed by the Antonov Design Bureau in the Ukrainian SSR within the Soviet Union during the 1980s. It is powered by six turbofan engines and is the heaviest aircraft ever built, with a maximum takeoff weight of 640 tonnes.
[Youtube]