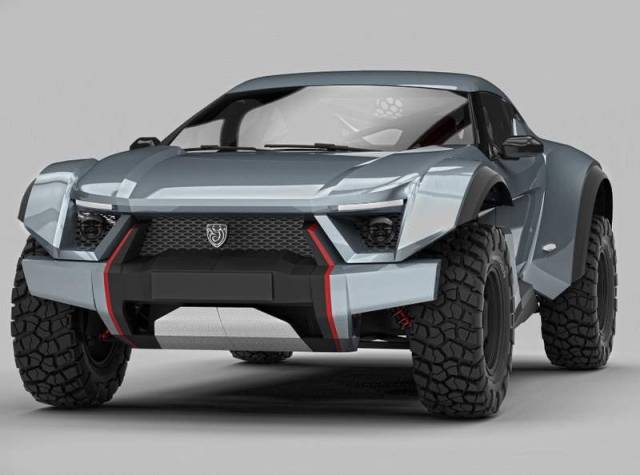 Zarooq unveils details about its SandRacer in press conference during Abu Dhabi GP week.
The SandRacer from startup Zarooq Motors it's designed for hot sand instead of just asphalt.
Images credit Zarooq Motors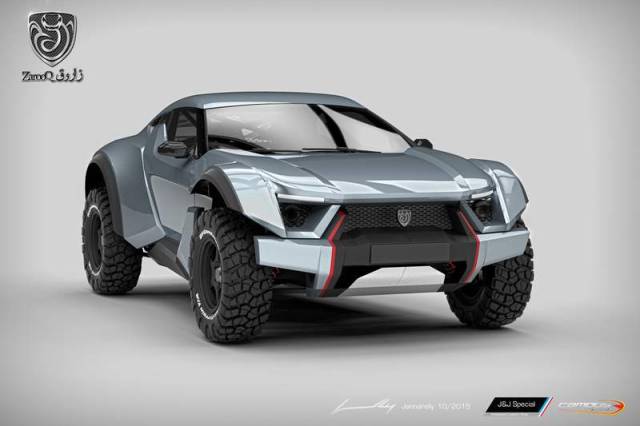 Zarooq director Mohammed Al Qadi said:
"The UAE are famous for amazing deserts, extreme safari motorsport and dune racing, but the performance of US and Japanese cars just wasn't good enough. So we decided to assemble a team to design and build the car we have all dreamed about, specifically made to race in the desert."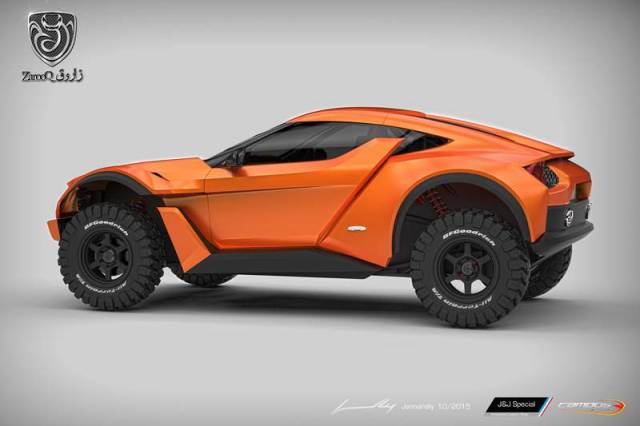 The Sand Racer has a 45-degree approach angle, a 53-degree departure angle and a 25-degree ramp over angle. It stretches 13.8 ft (4.2 m) in length and wheel size is 15 inches with 33×12.5 R15 tires. Specs are subject to change. Powered by a 3.5-liter six-cylinder engine, mounted amidships, producing 304 horsepower.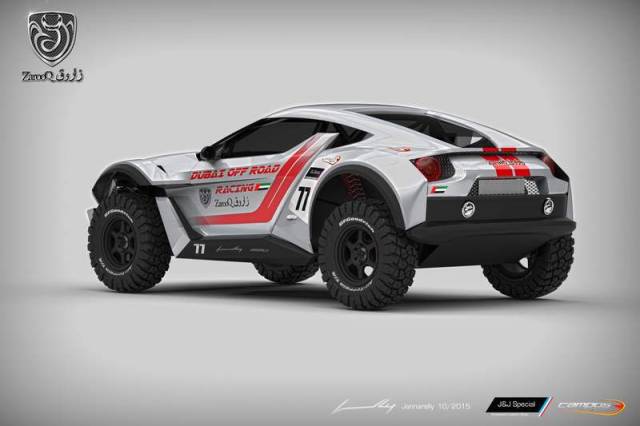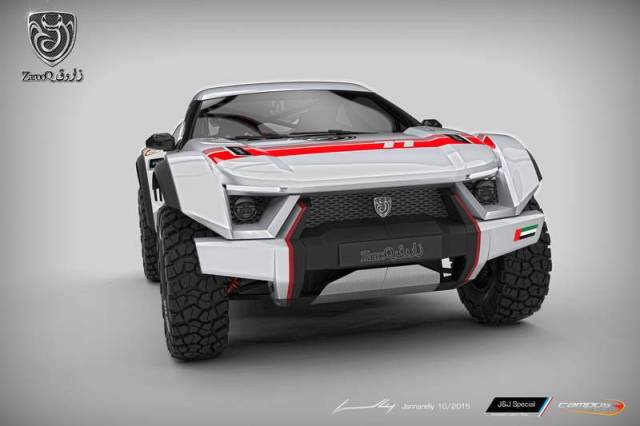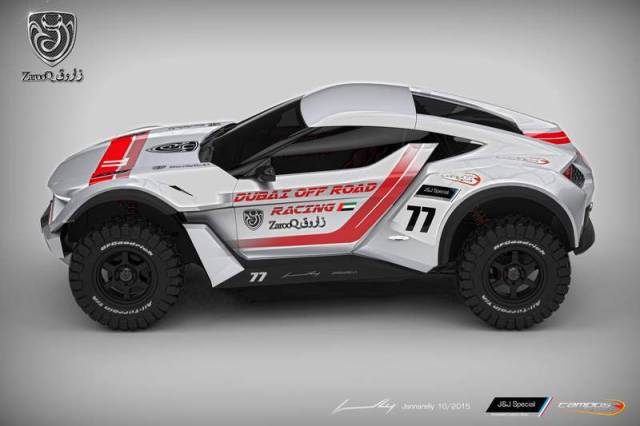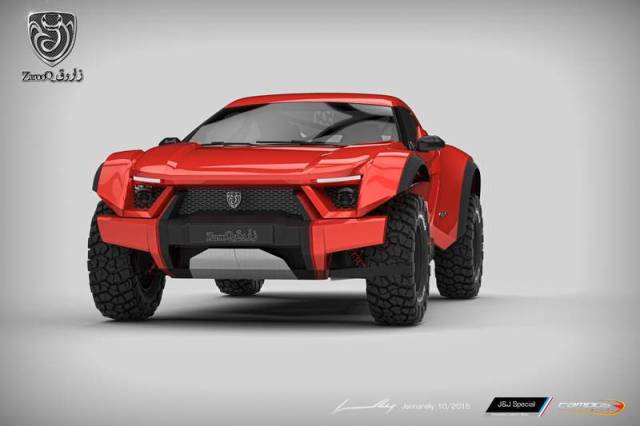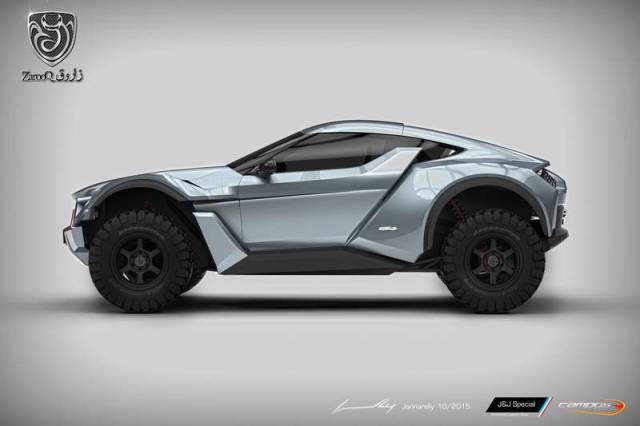 From the press release:
Sand racing car, made in UAE
First Press conference held in the Sofitel the Palm, Dubai gathering the whole team during Abu Dhabi Grand Prix week
Zarooq Motors had invited the press in the Sofitel the Palm Dubai, a few days before the Abu Dhabi Grand Prix. "The timing and the location allowed us to have everyone around the table, including Campos Racing team (Adrian Campos, CEO and Rio Haryanto, GP2 driver)" noted Bruno Laffite, Operations Director.
"It was a unique moment for us to exchange with the press and answer all their questions" commented Mohammed Al Qadi, Motorsport director "and we were glad to have attracted such a crowd of journalists, highlighting the level of interest we have generated locally in the UAE, in the Gulf but also internationally."
The genesis of Zarooq Motors is embedded in UAE motorsport …
"The Zarooq SandRacer was created in order to be able to organize an Off-road single-make championship and operate a sand racing track in Dubai" explains Mohammed al Qadi. "We have all the necessary skills in the UAE, from the design to the actual manufacturing of the chassis and the body as well as the final assembly, with our partners JJSpecial" added Mohammed. "We wanted the car to be road legal, with AC, because we want it to be as practical as possible, even if it is a racing car" said Bruno Laffite. "The support and insights from the industry we get thanks to our partnership with Motorsport professionals like Campos Racing is of great value today for the car and tomorrow for our championship", he added.
…with an objective of being a sustainable UAE car manufacturer and motorsport provider
Zarooq Motors aims at building a sustainable brand synonymous with off-road capability, racing-grade performance and iconic look. "We don't aim at being a large scale manufacturer, but a solid niche player consistently delivering innovative and reliable cars" underlines Mohammed. "We are an Emirati company and we want to show the world what we are capable of."
The aggressive and iconic look of the car revealed
Anthony Jannarelly, came to global automotive industry fame as the designer of the W Motors Lykan and Fenyr. As part of JJSpecial, the Zarooq SandRacer is his latest creation.
"It had to be fit for purpose, of course, hence the significant ground clearance, limited overhang or the room necessary for significant suspension travel. It also had to meet the standards to be road legal, yet we clearly focused on designing a car that is unique, aggressive and we hope, one day, iconic" Anthony Jannarelly said.
source: Zarooq Motors