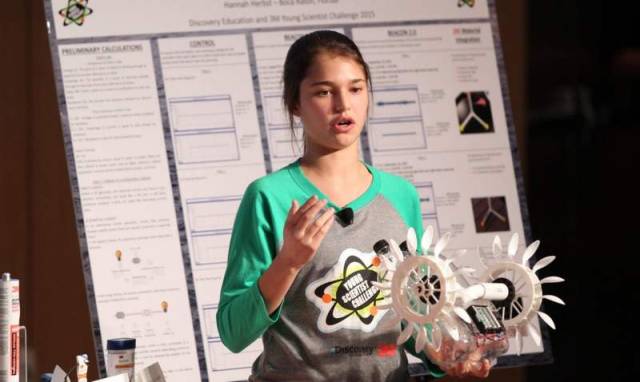 15-year-old created a system that converts ocean currents into electricity.
Hannah Herbst Awarded $25,000 and Named America's Top Young Scientist in Nation's Premier Middle School Science Competition for Her Prototype that Provides Power from Ocean Currents.
Herbst created an energy probe prototype offering a power source, by using untapped energy from ocean currents.
This innovation was inspired by her desire to "help her 9-year-old pen pal living in Ethiopia who lacks a reliable source of power and electricity."
Her scientific thinking reflected the competition's goal of applying science to everyday life, creating a "solution that will improve lives and strengthen communities around the globe."
Bill Goodwyn, president and CEO, Discovery Education, said:
"The Young Scientist Challenge empowers students with the tools and experiences they need to apply science and their critical thinking skills to solve real-world problems. We are proud to stand alongside 3M in their efforts to advance STEM education through this unique project-based learning opportunity that celebrates the next generation of innovators, creators, engineers and scientists. We congratulate Hannah Herbst and the rest of this year's finalists for their innovation and the inspiration they provide middle school students everywhere."
via inhabitat