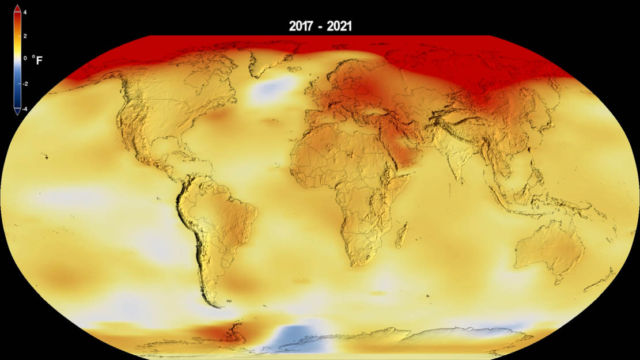 2021 was tied for the sixth warmest year on NASA's record, stretching more than a century.
Because the record is global, not every place on Earth experienced the sixth warmest year on record. Some places had record-high temperatures, and we saw record droughts, floods and fires around the globe.
Earth's global average surface temperature in 2021 tied with 2018 as the sixth warmest on record, according to independent analyses done by NASA and the National Oceanic and Atmospheric Administration (NOAA).
Continuing the planet's long-term warming trend, global temperatures in 2021 were 1.5 degrees Fahrenheit (0.85 degrees Celsius) above the average for NASA's baseline period, according to scientists at NASA's Goddard Institute for Space Studies (GISS) in New York. NASA uses the period from 1951-1980 as a baseline to see how global temperature changes over time.
Credits: NASA's Scientific Visualization Studio/Kathryn Mersmann
source NASA