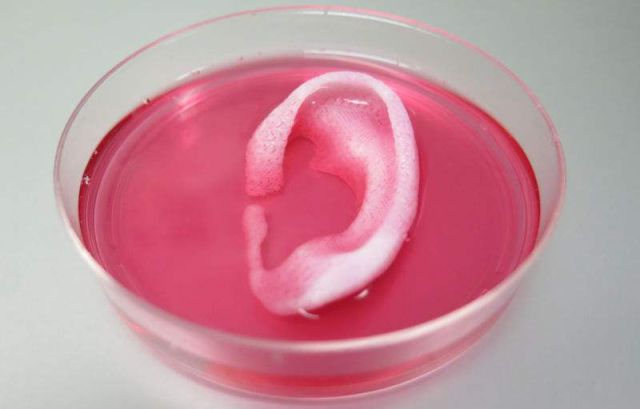 Scientists developed a 3D bioprinter, generating replacement tissue, that can withstand transplantation.
Researchers led by Anthony Atala from Wake Forest Institute for Regenerative Medicine, after 10 years in development, unveiled the Integrated Tissue and Organ Printing System (ITOP), capable of 3D printing an exact human ear.
Above: Credit: Wake Forest Institute for Regenerative Medicine
A challenge for tissue engineering is producing three-dimensional (3D), vascularized cellular constructs of clinically relevant size, shape and structural integrity. We present an integrated tissue–organ printer (ITOP) that can fabricate stable, human-scale tissue constructs of any shape.
The video, shown in both normal and 10X speed, shows the beginning, middle and end stages of printing a bone structure to replace a jaw defect. The close-up views show the micro-channels that are created to allow oxygen and nutrients to diffuse into the structure after implantation in the body.
Credit: Wake Forest Institute for Regenerative Medicine
The Integrated Tissue-Organ Printing (ITOP) System was developed over a 10-year period by scientists at the Institute for Regenerative Medicine. For the research reported in Nature Biotechnology, three printing nozzles were used to deposit:
1. bio-degradable, plastic-like materials to form the tissue "shape"
2. a water-based gel that contains the cells
3. a temporary outer structure to help maintain the tissue shape during printing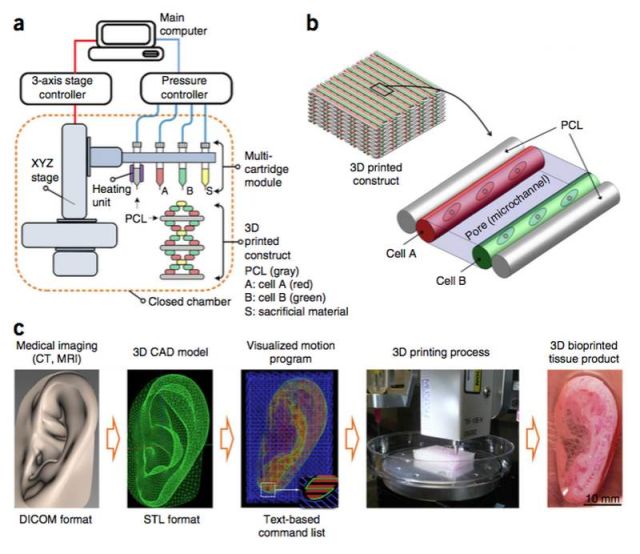 Credit: Wake Forest Institute for Regenerative Medicine/Nature Biology
via popsci