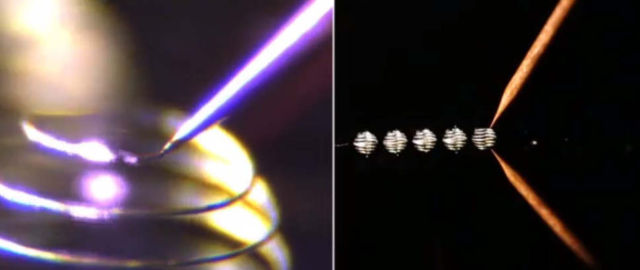 Laser-assisted 3D printing with metallic inks, could help on the increasing demand for flexible, wearable electronics, antennas, sensors and more.
Researchers at Harvard's Wyss Institute for Biologically Inspired Engineering and the John A. Paulson School of Engineering and Applied Sciences (SEAS), conducted a work reported online in the Proceedings of the National Academy of Sciences, that could lead to customized electronic and biomedical devices.
The laser-assisted direct ink writing method prints microscopic metallic, free-standing 3-D structures in one step, without auxiliary support material. The research was led by Wyss core faculty member Jennifer Lewis, who is also the Hansjörg Wyss Professor of Biologically Inspired Engineering at SEAS.
In this video, see the laser-assisted method developed by Wyss Core Faculty member Jennifer Lewis that allows metal to be 3D printed in midair.   Credit: Lewis Lab / Wyss Institute at Harvard University
Lewis, said:
"I am truly excited by this latest advance from our lab, which allows one to 3-D print and anneal flexible metal electrodes and complex architectures 'on-the-fly."
Wyss Institute Director Donald Ingber, explains:
"This sophisticated use of laser technology to enhance 3-D printing capabilities not only inspires new kinds of products, it moves the frontier of solid free-form fabrication into an exciting new realm, demonstrating once again that previously accepted design limitations can be overcome by innovation."
via TechCrunch
source Harvard Wyss Institute