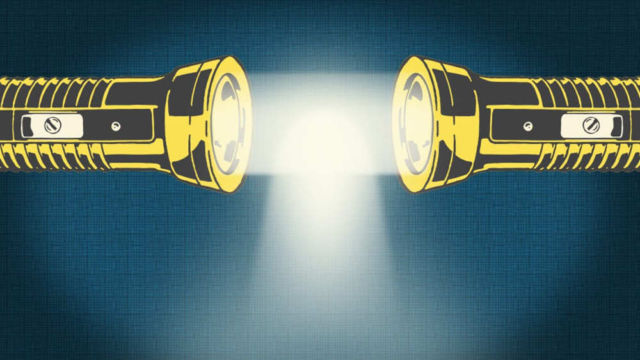 Scientists created a bizarre form of 'molecular light' with 3 photons.
Researchers from MIT and Harvard University achieved a world first by forcing a pair of photons to interact with one another.
They have now demonstrated that photons can indeed be made to interact. This could enable quantum computing with photons.
Try a quick experiment: Take two flashlights into a dark room and shine them so that their light beams cross. Notice anything peculiar? The rather anticlimactic answer is, probably not. That's because the individual photons that make up light do not interact. Instead, they simply pass each other by, like indifferent spirits in the night.
But what if light particles could be made to interact, attracting and repelling each other like atoms in ordinary matter? One tantalizing, albeit sci-fi possibility: light sabers — beams of light that can pull and push on each other, making for dazzling, epic confrontations. Or, in a more likely scenario, two beams of light could meet and merge into one single, luminous stream.
In a paper published today in the journal Science, the team, led by Vladan Vuletic, the Lester Wolfe Professor of Physics at MIT, and Professor Mikhail Lukin from Harvard University, reports that it has observed groups of three photons interacting and, in effect, sticking together to form a completely new kind of photonic matter.
Professor Mikhail Lukin, explains:
"Most of the properties of light we know about originate from the fact that photons are massless, and that they do not interact with each other. What we have done is create a special type of medium in which photons interact with each other so strongly that they begin to act as though they have mass, and they bind together to form molecules. This type of photonic bound state has been discussed theoretically for quite a while, but until now it hadn't been observed.
It's not an inapt analogy to compare this to light sabers. When these photons interact with each other, they're pushing against and deflecting each other. The physics of what's happening in these molecules is similar to what we see in the movies."
source MIT