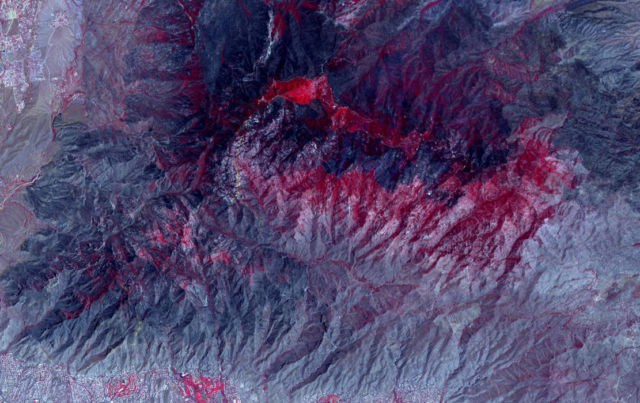 NASA's Advanced Spaceborne Thermal Emission and Reflection Radiometer (ASTER) instrument imaged areas burned by the Bighorn Fire north of Tucson, Arizona, on June 29.
Vegetation is shown in red and burned areas are shown in dark gray. It covers an area of 20 by 30 miles (33 by 48 kilometers).
On the night of June 5, a lightning strike started the Bighorn Fire in the Santa Catalina Mountains north of Tucson, Arizona. Extremely dry vegetation and windy conditions caused the fire to spread quickly. By June 30, the multi-agency incident information system, InciWeb, reported that it had ballooned to more than 114,000 acres and that it was about 45% contained.
image credit NASA/JPL-Caltech
source JPL NASA