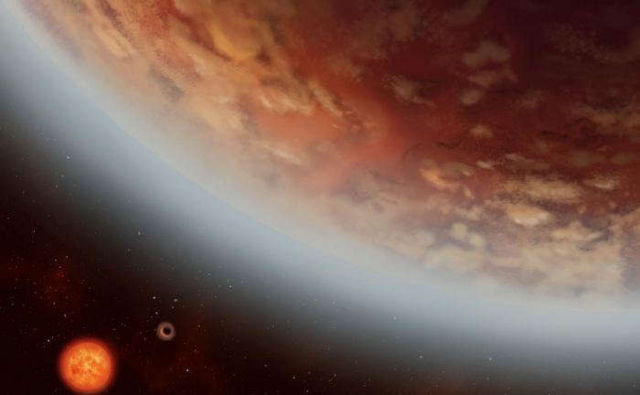 Astronomers from the European Southern Observatory (ESO), revealed that a little-known exoplanet called K2-18b could well be a scaled-up version of Earth.
Just as exciting, the same researchers also discovered for the first time that the planet has a neighbor.
Above, K2-18b could very well be a scaled-up version of Earth.  Illustration by Alex Boersma
Both planets orbit K2-18, a red-dwarf star located about 111 light years away in the constellation Leo. When the planet K2-18b was first discovered in 2015, it was found to be orbiting within the star's habitable zone, making it an ideal candidate to have liquid surface water, a key element in harbouring conditions for life as we know it.
The data set used by the researchers came from the High Accuracy Radial Velocity Planet Searcher (HARPS) using the ESO's 3.6m telescope at La Silla Observatory, in Chile. HARPS allows for measurements of radial velocities of stars, which can be affected by the presence of nearby planets, to be taken with the highest accuracy currently available. The instrument makes it possible to detect very small planets orbiting those stars.
Lead author Ryan Cloutier, a PhD student in U of T Scarborough's Centre for Planet Science, U of T's Department of Astronomy and Astrophysics, and Université de Montréal Institute for research on exoplanets (iREx).
"Being able to measure the mass and density of K2-18b was tremendous, but to discover a new exoplanet was lucky and equally exciting.
If you can get the mass and radius, you can measure the bulk density of the planet and that can tell you what the bulk of the planet is made of.
With the current data, we can't distinguish between those two possibilities," he says. "But with the James Webb Space Telescope (JWST) we can probe the atmosphere and see whether it has an extensive atmosphere or it's a planet covered in water."
source University of Toronto Scarborough