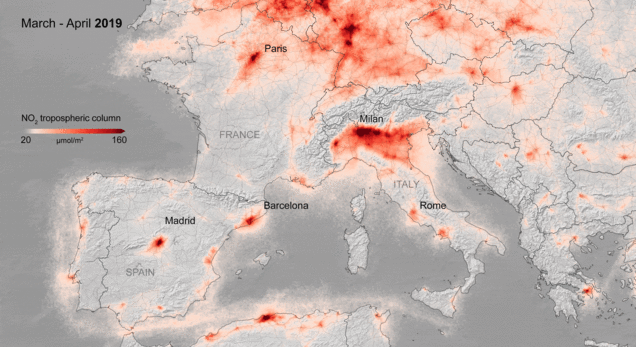 In this new satellite images during Coronavirus quarantine measures, air pollution across Europe is down 45 per cent.
Data from the ESA Copernicus Sentinel-5P satellite show that Nitrogen dioxide levels across Europe have dropped, as people forced to stay at home.
These images, using data from the Copernicus Sentinel-5P satellite, the images show the Nitrogen dioxide concentrations from 13 March to 13 April 2020, compared to the March-April 2019.
Henk Eskes, from the Royal Netherlands Meteorological Institute said:
"Averaging data over longer periods of time allows us to see clearer changes in concentrations owing to human activity,' he said.
'For this reason, the maps show concentrations over a monthly period and are provided with an uncertainty of 15 per cent which reflects weather variability not accounted for in the monthly averages used."