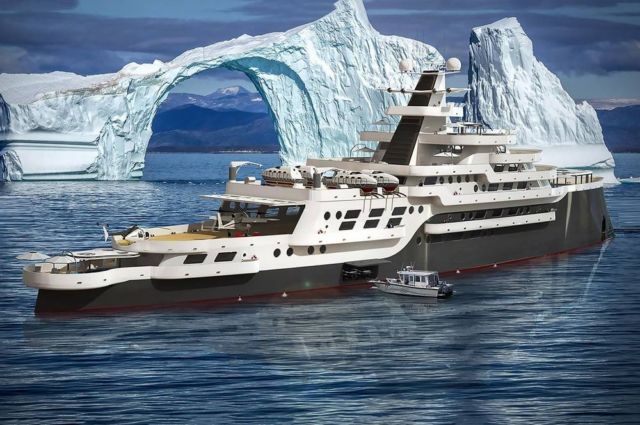 The 117 meter expedition yacht Alexis is luxurious and safe for any type of sea voyage, a marriage between elegance and capability.
Alexis expedition yacht can take you to any port on earth nonstop without having to refuel and can be on station for extended periods of time. Her ice class hull can break through moderate ice conditions easily.
The Alexis is large enough to be configured for standard diesel-electric propulsion or hybrid. This decision is at the owner's discretion.
She features a huge open sky bar with two spas on the 6th level. The Alexis has many private indoor and outdoor areas, boasts 3 master suites, and can carry 20 guests in full luxury.
She boasts a massive owner's suite at the stern with a private swimming pool. There is an additional swimming pool at the bow of Alexis. Her two pools boast hard retractable covers so draining is not required in rough conditions.

The Alexis' cavernous garage can handle 2 submarines, multiple tenders, and other water toys.
She has four freefall lifeboats that can be deployed in the worst of conditions.
The integrated aircraft hangar has 3000 ft², enough to store four small helicopters or 3 medium helicopters. The huge landing area permits safe aircraft operations during rough conditions. The two large cranes can help load and off load special research equipment easily. The Alexis also features heated handrails and heated doors to minimizes icing problems.
source thegoliathseries