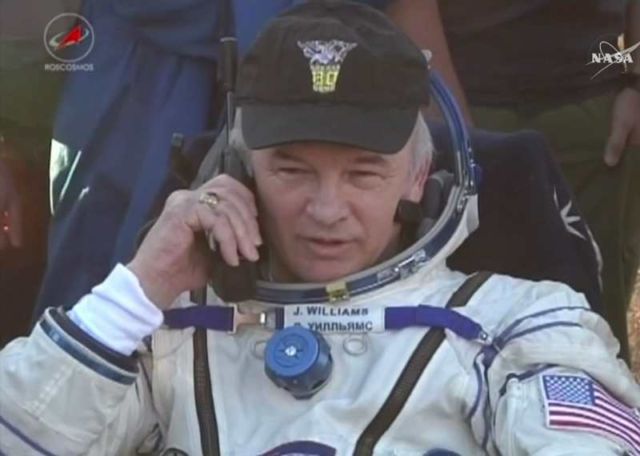 NASA's record-breaking astronaut, after spending 534 days in space, and crewmates safely return to Earth.
NASA astronaut and Expedition 48 Commander Jeff Williams returned to Earth Tuesday after his U.S. record-breaking mission aboard the International Space Station.
Above, after safely returning Sept. 6, 2016 from his latest mission to the International Space Station, veteran NASA astronaut Jeff Williams now has spent 534 days in space, making him first on the all-time NASA astronaut list.   Credits: NASA TV
Williams and his Russian crewmates Alexey Ovchinin and Oleg Skripochka, of the Russian space agency Roscosmos, landed in their Soyuz TMA-20M at 9:13 p.m. EDT southeast of the remote town of Dzhezkazgan in Kazakhstan (7:13 a.m. Sept. 7, local time).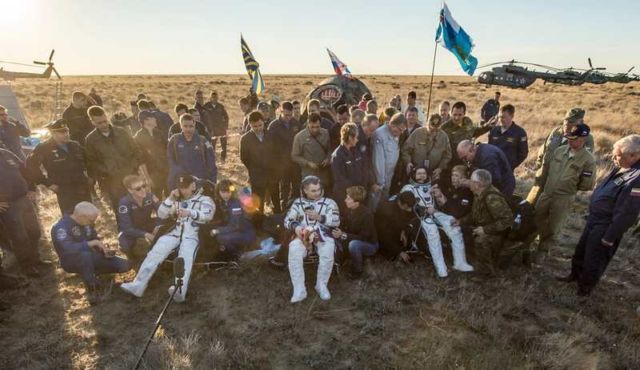 The Soyuz TMA-20M spacecraft is seen as it lands with Expedition 48 crew members.  Credit: NASA/Bills Ingalls
"No other U.S. astronaut has Jeff's time and experience aboard the International Space Station. From his first flight in 2000, when the station was still under construction, to present day where the focus is science, technology development and fostering commercialization. Jeff even helped prepare the space station for future dockings of commercial spacecraft under NASA's Commercial Crew Program," said Kirk Shireman, ISS Program manager at NASA's Johnson Space Center in Houston. "We're incredibly proud of what Jeff has accomplished off the Earth for the Earth."
Expedition 48 Crew Undocks from ISS for Return Trip to Earth:
On Sept. 6, after bidding farewell to the crew remaining aboard the International Space Station, Expedition 48 Commander Jeff Williams of NASA and Soyuz Commander Alexey Ovchinin and Flight Engineer Oleg Skripochka of Roscosmos undocked from the orbital outpost to begin their return trip to Earth. They spent 172 days aboard the ISS, conducting research and operational work in support of the station.
source NASA