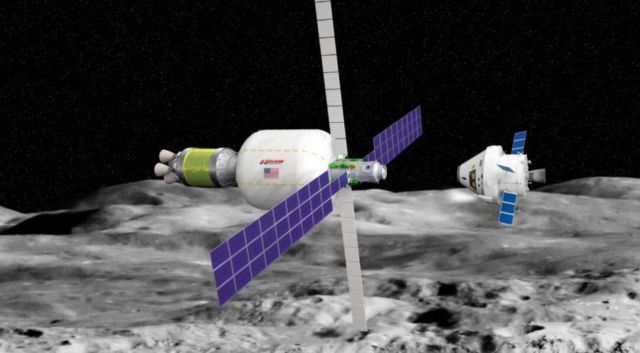 Bigelow Aerospace & ULA have an agreement to push for the creation of an inflatable orbiting Lunar Depot.
Bigelow Aerospace and United Launch Alliance (ULA) are working together to launch a B330 expandable module on ULA's Vulcan launch vehicle. The launch would place a B330 outfitted module in Low Lunar Orbit by the end of 2022 to serve as a lunar depot.
Robert Bigelow, president of Bigelow Aerospace, said:
"We are excited to work with ULA on this lunar depot project. Our lunar depot plan is a strong complement to other plans intended to eventually put people on Mars. It will provide NASA and America with an exciting and financially practical success opportunity that can be accomplished in the short term. This lunar depot could be deployed easily by 2022 to support the nation's re-energized plans for returning to the Moon.
This commercial lunar depot would provide anchorage for significant lunar business development in addition to offering NASA and other governments the Moon as a new exciting location to conduct long-term exploration and astronaut training."
The B330 would launch to Low Earth Orbit on a Vulcan 562 configuration rocket, the only commercial launch vehicle in development today with sufficient performance and a large enough payload fairing to carry the habitat. Once the B330 is in orbit, Bigelow Aerospace will outfit the habitat and demonstrate it is working properly.
Tory Bruno, ULA's president and CEO, said:
"We are so pleased to be able to continue our relationship with Bigelow Aerospace. The company is doing such tremendous work in the area of habitats for visiting, living and working off our planet and we are thrilled to be the ride that enables that reality."
source Bigelow Aerospace