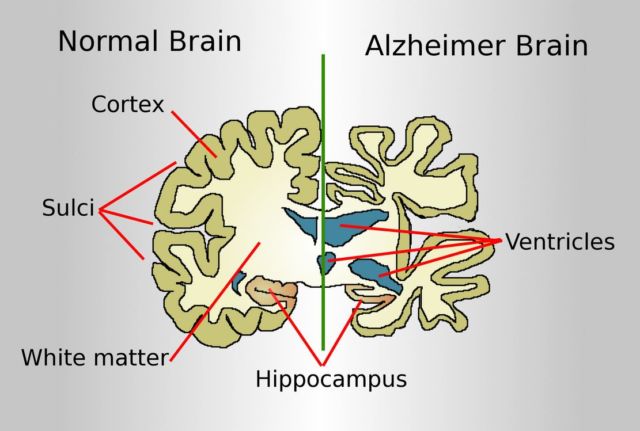 The U.S. Food and Drug Administration approved Aduhelm (aducanumab) for the treatment of Alzheimer's, a debilitating disease affecting 6.2 million Americans.
Aduhelm was approved using the accelerated approval pathway, which can be used for a drug for a serious or life-threatening illness that provides a meaningful therapeutic advantage over existing treatments. Accelerated approval can be based on the drug's effect on a surrogate endpoint that is reasonably likely to predict a clinical benefit to patients, with a required post-approval trial to verify that the drug provides the expected clinical benefit.
Above image: Drawing comparing a normal aged brain (left) and the brain of a person with Alzheimer's (right).  Credit wikimedia
Patrizia Cavazzoni, M.D., director of the FDA's Center for Drug Evaluation and Research, said:
"Alzheimer's disease is a devastating illness that can have a profound impact on the lives of people diagnosed with the disease as well as their loved ones. Currently available therapies only treat symptoms of the disease; this treatment option is the first therapy to target and affect the underlying disease process of Alzheimer's. As we have learned from the fight against cancer, the accelerated approval pathway can bring therapies to patients faster while spurring more research and innovation."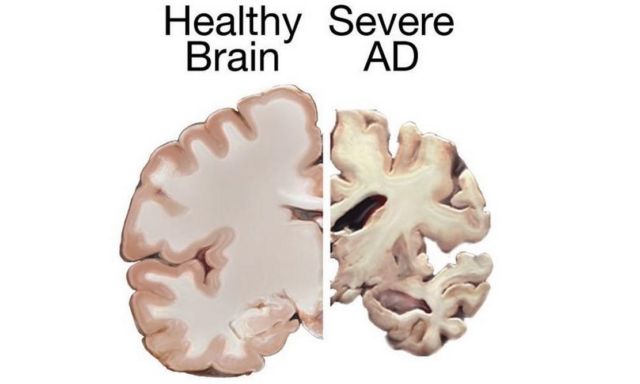 A normal brain on the left and a late stage Alzheimer's brain on the right.  Credit wikimedia
Alzheimer's is an irreversible, progressive brain disorder that slowly destroys memory and thinking skills, and eventually, the ability to carry out simple tasks. While the specific causes of Alzheimer's disease are not fully known, it is characterized by changes in the brain—including amyloid plaques and neurofibrillary, or tau, tangles—that result in loss of neurons and their connections. These changes affect a person's ability to remember and think.
source FDA