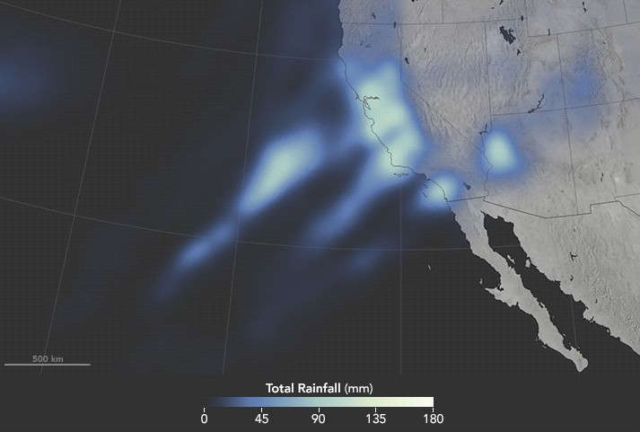 An atmospheric river has been flooding California and other parts of the western United States with rain and snow for nearly a week.
Precipitation could be measured in feet rather than inches in some locations, and rivers and valleys filled with some of the worst flooding since 2005. According to meteorologists, the deluge is not over as more storms are predicted through January 12, 2017.
Stretching tens to hundreds of kilometers wide, atmospheric rivers are literally jet streams of moist air. According to the National Oceanic and Atmospheric Administration, the most potent atmospheric rivers can carry an amount of water vapor equivalent to 7.5 to 15 times the flow at the mouth of the Mississippi River. Between 30 and 50 percent of the annual precipitation in the western U.S. comes from just a few atmospheric river events.
Off the West Coast of the U.S., an atmospheric river is often referred to as a "pineapple express," as the storm systems and moisture often flow from the tropical Pacific near Hawaii. The flow of moist air runs into low-pressure weather systems and can deliver bursts of precipitation for days at a time.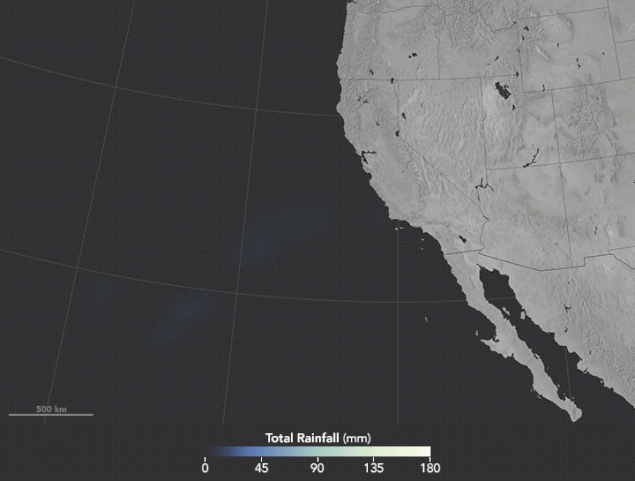 The animation above shows satellite-based measurements of rainfall as it accumulated over California and the western U.S. Specifically, it shows rainfall accumulation every 30 minutes from 4:30 p.m. Pacific Standard Time on January 7 to 4:30 p.m. on January 10. These rainfall totals are remotely-sensed estimates, and local amounts can be significantly higher when measured from the ground. (The data here do not reflect snowfall amounts.) Note how fingers of moisture stretch across the Pacific Ocean and then accumulate over California.
NASA Earth Observatory map by Joshua Stevens, using IMERG data provided courtesy of the Global Precipitation Mission (GPM) Science Team's Precipitation Processing System (PPS). Caption by Mike Carlowicz.
source earthobservatory