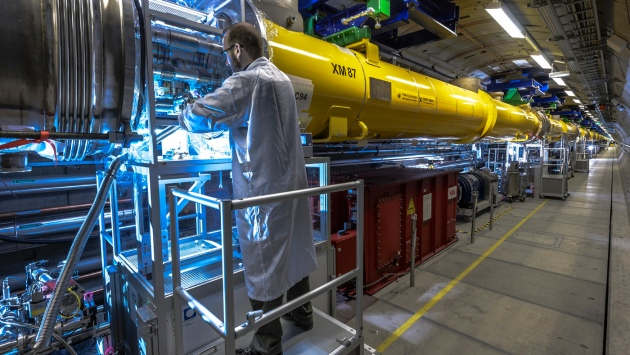 High-speed X-Ray laser gun will help scientists to make movies of molecules in motion.
The European X-ray Free Electron Laser (XFEL) based near Hamburg, Germany, that costed €1.2-billion, will start running its first experiments in September.
Above, scientists will soon be able to use the European X-ray Free Electron Laser, to watch molecules in action. Credit Heiner Müller-Elsner/European XFEL
The 3.4 km long European XFEL generates extremely intense X-ray flashes to be used by researchers from all over the world. The flashes are produced in underground tunnels and will allow scientists to map atomic details of viruses, film chemical reactions, and study the processes in the interior of planets.
The European XFEL fires powerful X-rays in bursts of a few hundred femtoseconds: so short that, like strobe lights, they can capture snapshots of jittery molecules frozen in time, and with a wavelength small enough to provide pictures at atomic resolution. The Hamburg machine is one of a few such X-ray lasers worldwide, but boasts a unique rapid-fire feature: it can rattle off 27,000 pulses every second, a firing rate more than 200 times greater than the next-fastest facility.
Arwen Pearson, a biochemist at the Centre for Free-Electron Laser Science in Hamburg, said:
"It's such a different beast to anything else on the planet that it really feels like going into uncharted territory."
Adrian Mancuso, a project scientist at the European XFEL's experimental stations in Schenefeld, near Hamburg, explains:
"In a single second, scientists should be able to collect more than 3,000 good-quality X-ray pictures, compared with 100 or so at other facilities."
Read More at Nature