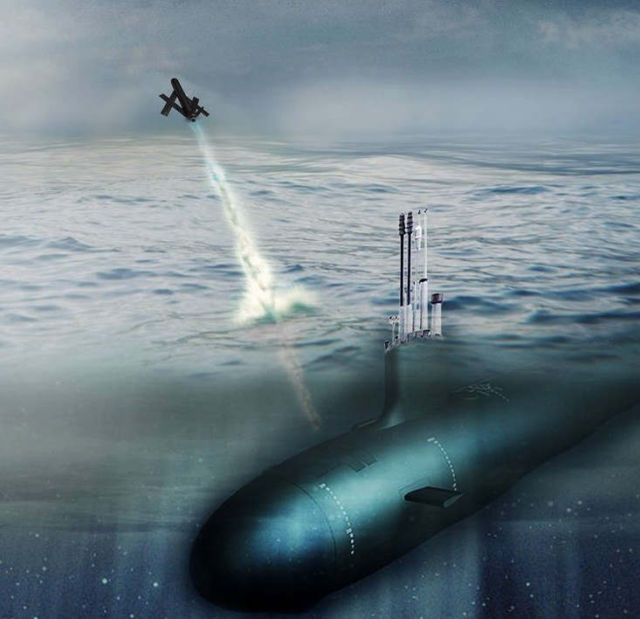 Blackwing unmanned aircraft system can be launched from submarines and Unmanned Underwater Vehicles (UUVs), or fully submerged undersea platforms.
Blackwing unmanned aircraft system developed by AeroVironment and Joint Capabilities Technology Demonstration (JCTD), plans to deploy its "Blackwing," a small tube-launched unmanned aircraft system that deploys from under the surface of the sea, on manned submarines and unmanned underwater vehicles.
Above, the new Blackwing unmanned aircraft system.  Image credit AeroVironment
The new system will have full integration into the US Navy's submarine fleet using existing, standard command-and-control systems and equipment
 
Blackwing builds on AeroVironment's extensive operational experience with small unmanned aircraft systems (UAS) and its Switchblade™ Lethal Miniature Aerial Missile System (LMAMS) to provide the Navy with a low cost, submarine launched unmanned aircraft system optimized for Anti-Access/Aerial Denial (A2/AD) environments. AeroVironment developed the Blackwing system as part of a 2013 Navy and United States Special Operations Command (USSOCOM) sponsored JCTD called Advanced Weapons Enhanced by Submarine UAS against Mobile targets (AWESUM). This JCTD was completed in September 2015 with a strong recommendation to transition the capability into the fleet. Blackwing employs an advanced, miniature electro-optical and infrared (EO/IR) payload, Selective Availability Anti-spoofing Module (SASSM) GPS and AeroVironment's secure Digital Data Link (DDL), all packaged into a vehicle that launches from manned and unmanned submarines.
Kirk Flittie, AeroVironment vice president and general manager of its Unmanned Aircraft Systems business segment, said:
"AeroVironment's new Blackwing unmanned aircraft system is a valuable new capability that resulted from our team's close collaboration with, and responsiveness to, the U.S. Navy's undersea warfare community and the Special Operations community. Delivering innovative solutions that enhance our customers' capabilities benefits the US Navy and USSOCOM, and creates new business opportunities for us. In addition to operating from undersea vehicles, Blackwing can also be integrated with and deployed from a wide variety of surface vessels and mobile ground vehicles to provide rapid response reconnaissance capabilities that help our customers operate more safely and effectively."
via
source