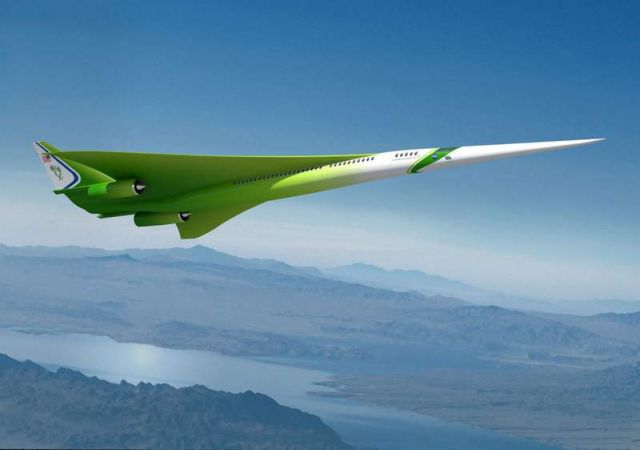 A sonic boom is a loud, thunder-like noise heard by a person on the ground when an aircraft flies overhead at supersonic speeds, breaking the sound barrier.   Watch the video…
Above: This rendering shows the Lockheed Martin future supersonic advanced concept featuring two engines under the wings and one on top of the fuselage (not visible in this image). Image Credit: NASA/Lockheed Martin.
Supersonic flight is one of the four speeds of flight. They are called the regimes of flight. The regimes of flight are subsonic, transonic, supersonic and hypersonic.
Vehicles that fly at supersonic speeds are flying faster than the speed of sound. The speed of sound is about 768 miles per hour (1,236 kilometers per hour) at sea level. These speeds are referred to by Mach numbers. The Mach number is the ratio of the speed of the aircraft to the speed of sound. Flight that is faster than Mach 1 is supersonic. Supersonic includes speeds up to five times faster than the speed of sound, or Mach 5.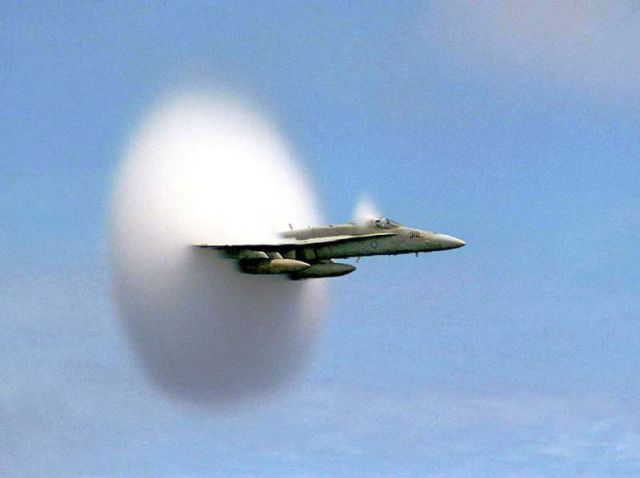 An F/A-18 Hornet aircraft speeds up to supersonic speed. The Hornet is flying through an unusual cloud. This kind of cloud sometimes forms as aircraft break the sound barrier. Credits: Ensign John Gay, USS Constellation, U.S. Navy
In 1947, Air Force Capt. Charles E. "Chuck" Yeager became the first person to fly an aircraft faster than the speed of sound.
source NASA