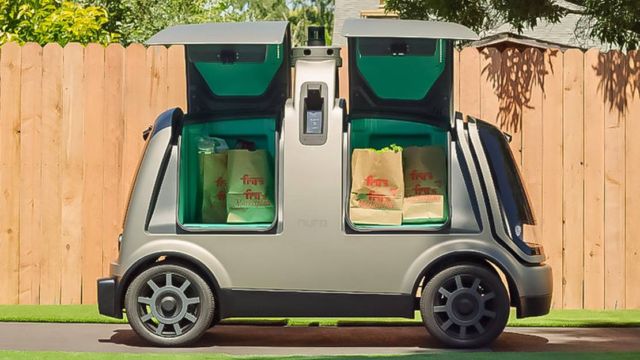 The State of California authorizes Nuro to test driverless delivery vehicles for public road operations.
Pursuant to state law and regulation, the California Department of Motor Vehicles today issued a permit to Nuro authorizing the company to test two driverless vehicles on surface streets within specific, designated parts of Santa Clara and San Mateo counties, including portions of the cities of Atherton, East Palo Alto, Los Altos Hills, Los Altos, Menlo Park, Mountain View, Palo Alto, Sunnyvale and Woodside.
While Nuro has had state authority to test autonomous vehicles on the road with safety drivers since 2017, the new permit allows the company to test two light-duty delivery vehicles without drivers behind the wheel in nine cities. The vehicles have a maximum speed of 25 mph and are only approved to operate in fair weather conditions on streets with a speed limit of no more than 35 mph.
"The safety of the motoring public is the DMV's top priority, and we do not give out these permits lightly," DMV Director Steve Gordon said. "Nuro has met the DMV's requirements to receive this permit to test their driverless delivery vehicles on California's public roads."
The COVID-19 pandemic has expedited the public need for contactless delivery services. Our R2 fleet is custom-designed to change the very nature of driving, and the movement of goods, by allowing people to remain safely at home while their groceries, medicines, and packages, are brought to them.

Today, as we live through a public health crisis, Nuro has received the first permit ever granted by the State of California to test a self-driving vehicle on public roads that is not only driverless, but also passengerless. It is only the second driverless testing permit California has granted to any company. This permit now allows Nuro to begin testing our recently unveiled R2 vehicle, in service with our partners, starting in the Silicon Valley region.
"Residents of Mountain View and the surrounding areas may already have seen our Prius vehicles on roads. Those vehicles have human operators monitoring their autonomous systems in order to adhere to state guidelines. Now, our driverless R2 vehicles can begin testing in the counties that make up Silicon Valley, namely Santa Clara and San Mateo, and we will continue to expand testing in other parts of the Bay Area soon. The permit granted today means that we can even begin conducting deliveries with our local retail partners."
source Nuro