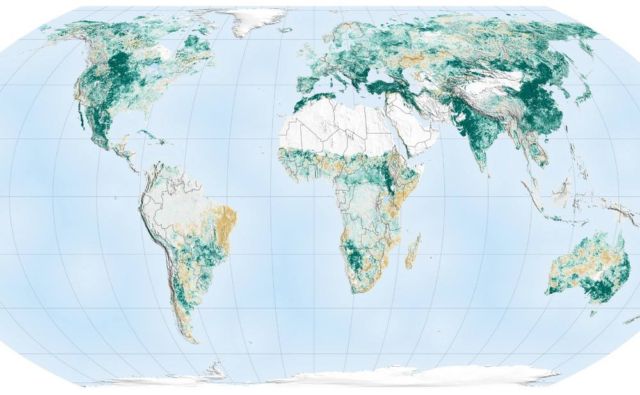 The world is literally a greener place than it was twenty years ago, and data from NASA satellites has revealed a counterintuitive source for much of this new foliage.
Ambitious tree-planting programs and intensified agriculture have led to more land area covered in vegetation.
A new study shows that China and India—the world's most populous countries—are leading the increase in greening on land. The effect comes mostly from ambitious tree-planting programs in China and intensive agriculture in both countries.
Ranga Myneni of Boston University and colleagues first detected the greening phenomenon in satellite data from the mid-1990s, but they did not know whether human activity was a chief cause. They then set out to track the total amount of Earth's land area covered by vegetation and how it changed over time.
The research team found that global green leaf area has increased by 5 percent since the early 2000s, an area equivalent to all of the Amazon rainforests. At least 25 percent of that gain came in China. Overall, one-third of Earth's vegetated lands are greening, while 5 percent are growing browner. The study was published on February 11, 2019, in the journal Nature Sustainability.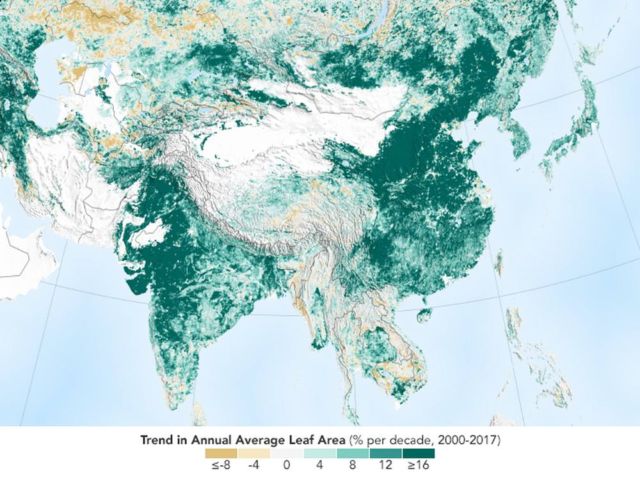 The maps on this page show the increase or decrease in green vegetation—measured in average leaf area per year—in different regions of the world between 2000 and 2017. Note that the maps are not measuring the overall greenness, which explains why the Amazon and eastern North America do not stand out, among other forested areas.
Lead author Chi Chen of Boston University, said:
"China and India account for one-third of the greening, but contain only 9 percent of the planet's land area covered in vegetation. That is a surprising finding, considering the general notion of land degradation in populous countries from overexploitation."
source earthobservatory