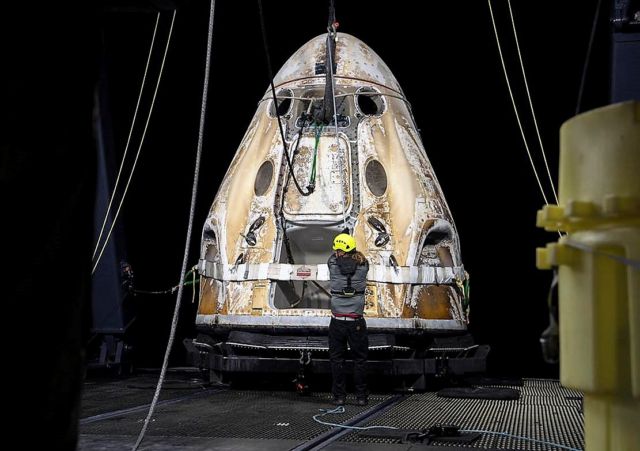 The SpaceX Crew Dragon Endeavour spacecraft is lifted onto the GO Navigator recovery ship after it landed in the Gulf of Mexico off the coast of Pensacola, Florida, Monday, Nov. 8, 2021.
The SpaceX Crew Dragon Endeavour spacecraft landed with NASA astronauts Shane Kimbrough and Megan McArthur, Japan Aerospace Exploration Agency (JAXA) astronaut Aki Hoshide, and ESA (European Space Agency) astronaut Thomas Pesquet.
Kimbrough, McArthur, Hoshide, and Pesquet traveled 84,653,119 statute miles during their mission, stayed 198 days aboard the space station, and completed 3,194 orbits around Earth.
NASA's SpaceX Crew-2 mission is the second operational mission of the SpaceX Crew Dragon spacecraft and Falcon 9 rocket to the International Space Station as part of the agency's Commercial Crew Program, which has worked with the U.S. aerospace industry to launch astronauts on American rockets and spacecraft from American soil to the space station. The splashdown of Crew-2 comes just before the launch of NASA's SpaceX Crew-3 mission, currently scheduled for no earlier than Wednesday, Nov. 10, on another long duration mission of approximately six months.
Photo Credit: NASA/Aubrey Gemignani
Editor: Michael Bock