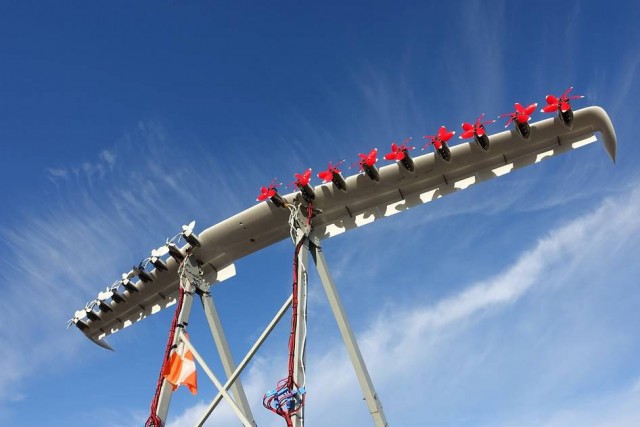 NASA's Leading Edge Asynchronous Propeller Technology (LEAPTech) project researchers, are performing ground testing of a 31-foot-span, carbon composite wing section with 18 electric motors.
The LEAPTech project at NASA's Armstrong Flight Research Center, will test the premise that tighter propulsion-airframe integration, made possible with electric power, will deliver improved efficiency and safety, as well as environmental and economic benefits.
The experimental wing, called the Hybrid-Electric Integrated Systems Testbed (HEIST), is mounted on a specially modified truck. Testing on the mobile ground rig assembly will provide valuable data and risk reduction applicable to future flight research. Instead of being installed in a wind tunnel, the HEIST wing section will remain attached to load cells on a supporting truss while the vehicle is driven at speeds up to 70 miles per hour across a dry lakebed at Edwards Air Force Base.
Image Credit: Joby Aviation
source NASA