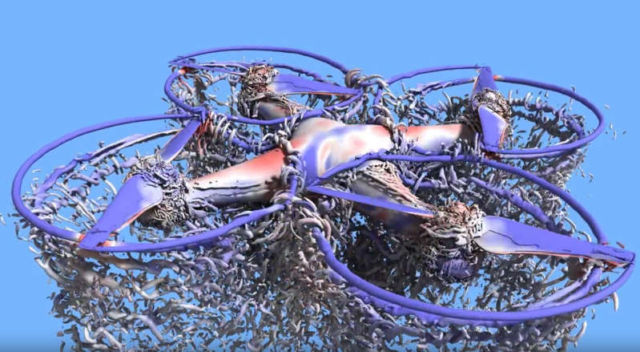 How drones fly. NASA explore drone aerodynamics and releases amazing animation showing the airflow around it.
NASA uses computer to simulate the flow of air around a drone, to test aerodynamics and improve the performance of next-generation vehicles.
At NASA's Ames Research Center in California's Silicon Valley, researchers recently used this technique to explore the aerodynamics of a popular example of a small, battery-powered drone, a modified DJI Phantom 3 quadcopter.
This simulation reveals the complex motions of air due to interactions between the vehicle's rotors and X-shaped frame during flight. In the video, airflow interactions are shown as undulating lines. Pressure changes are shown using color. Areas of high pressure are red; low are blue.
Simulation of the DJI Phantom 3 during flight. Airflow interactions are shown as undulating lines. Pressure changes are shown using color. Areas of high pressure are red; low are blue. Credits: NASA Ames Research Center/NASA Advanced Supercomputing Division/Tim Sandstrom
source NASA