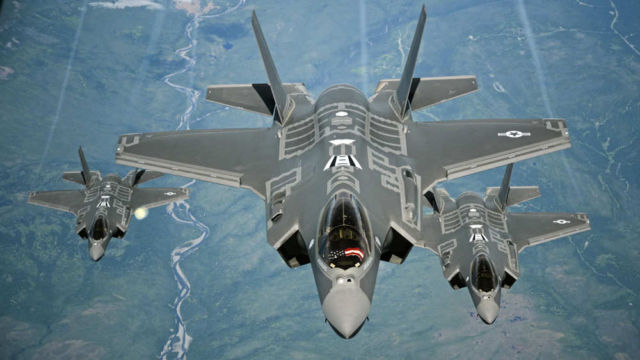 The F-35A Lightning II fifth-generation fighter aircraft, was declared by the U.S. Air Force 'combat ready.'

The F-35A, the most expensive weapons program, is the latest addition to ACC's fleet of deployable and fifth-generation aircraft. It provides air superiority, interdiction, suppression of enemy air defenses and close air support.
F-35A Lightning II aircraft receive fuel from a KC-10 Extender from Travis Air Force Base, Calif.   Credit U.S. Air Force photo/Staff Sgt. Madelyn Brown
Gen. Hawk Carlisle said:
"I am proud to announce this powerful new weapons system has achieved initial combat capability. The F-35A will be the most dominant aircraft in our inventory because it can go where our legacy aircraft cannot and provide the capabilities our commanders need on the modern battlefield."
"Bringing the F-35A to initial combat readiness is a testament to our phenomenal Airmen and the outstanding support of the Joint Program Office and our enterprise partners. This important milestone for our fighter force ensures the United States, along with our allies and international partners, remains prepared to deter, deny, and defeat the full spectrum of growing threats around the globe," added Air Force Secretary Deborah Lee James.
via engadget
source US Air Force