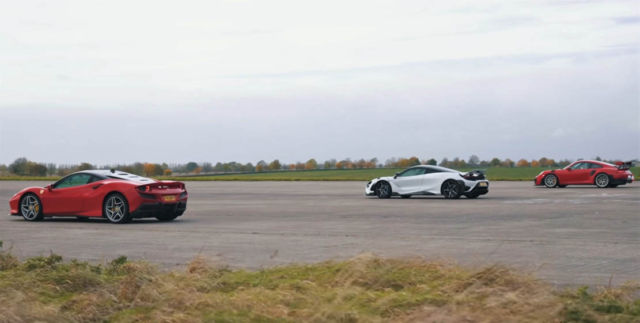 Ferrari F8 vs McLaren 765LT vs Porsche 911 GT2 RS.  Three incredible track-focused supercars, going head-to-head over the quarter-mile!
Mat's sitting in the Ferrari F8 Tributo, and this week he's lining up alongside a McLaren 765LT and a Porsche 911 GT2 RS.
All 3 of these cars are packing some serious power! Starting with the Ferrari F8 Tributo, it's powered by a 3.9-litre twin-turbo V8 engine that delivers 720hp & 770Nm of torque. It weighs in at 1,435kg – slightly more than the McLaren 765LT, which is 1,339kg! The McLaren's 4.0-litre twin-turbo V8 puts down an impressive 765hp & 800Nm.
And then finally we have the Porsche 911 GT2 RS, which is the heaviest car in this line-up, topping the scales at 1,470kg. The GT2 RS has a 3.8-litre twin-turbo flat-six engine producing 700hp & 750Nm, making it the least powerful car here, too.
[Youtube]