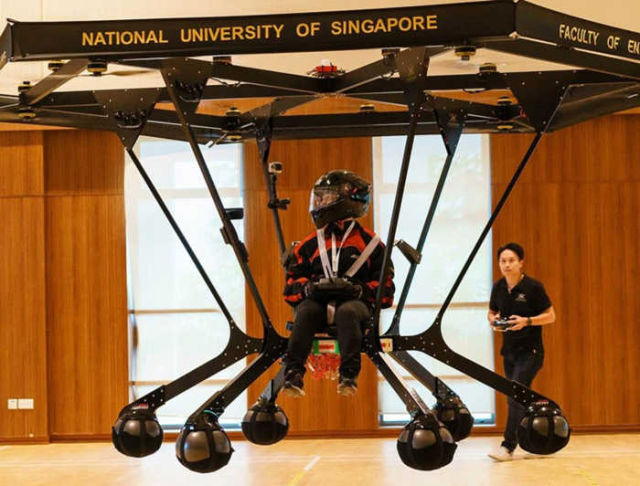 A first personal electric flying machine, called the Snowstorm, made by Singapore students.   Watch Snowstorm at the video…
The electric flying machine designed and built by a team of eight engineering students from the National University of Singapore (NUS), has successfully made its first flight.
Snowstorm is an electric-powered aircraft capable of vertical take-off and landing.
Comprising an intricate design of motors, propellers and inflated landing gear set within a hexagonal frame, that can be controlled by a single person seated within it.
The personal flying machine was built over a one-year period, under the auspices of FrogWorks, a collaboration between NUS Faculty of Engineering's Design-Centric Programme (DCP) and the University Scholars Programme (USP). FrogWorks engages students in the study, design and construction of clean leisure craft, a rapidly growing segment of green technology. Previous FrogWorks projects include the conversion of a sport motorcycle and a yacht from petrol to electric propulsion.
The personal flying machine can bear the load of a single person up to 70kg for a flight time of about 5 minutes.
Dr Joerg Weigl, one of two supervisors of the project, who is from the Design-Centric Programme at the NUS Faculty of Engineering, said:
"A common trope in popular science fiction is the projection of humans flying on our own – think the Jetsons, or even Back to the Future. NUS' Snowstorm shows that a personal flying machine is a very real possibility, primarily as a means to fulfil our dreams of flying within a recreational setting."