World's first floating city to rise off French Polynesian on the Pacific.
Low-lying islands in the Pacific, like Kiribati and parts of French Polynesia, face the imminent threat of disappearing because of sea level rise.
The Seasteading Institute's executive director Randolph Hencken, believes that seasteading offers one practical solution for these places to create new, resilient territory on which to continue to exist…
For five years, the Seasteading Institute has been conducting research into the potential for permanent, innovative communities – floating at sea. We are now able to apply this foundation of knowledge and our network towards an actual design, along with additional efforts to determine specific needs and desires of potential customers, and to select a practical location for what could become the world's first city at sea.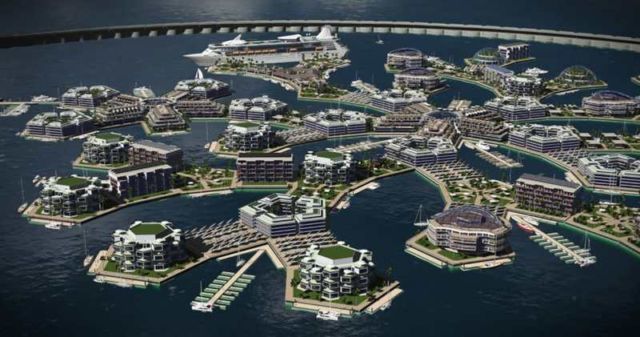 Each floating platform can be towed via tugboat from location to location and they can interlock to form sprawling formations over the water's surface. Ballasts are used to adjust the depth at which the platforms sit in the water and coupling latches lock them together to form larger, cohesive footprints for convenience and stability.
Images credit The Seasteading Institute
via inhabitat