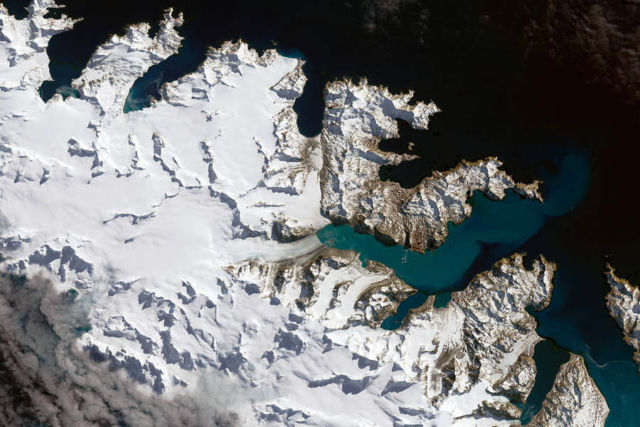 The Operational Land Imager (OLI) on Landsat 8 captured rare natural-color images of South Georgia Island, where several glaciers are in retreat.
Frequent cloud cover in the southern Atlantic Ocean often obscures satellite images of South Georgia and the South Sandwich Islands. But occasionally the clouds give way.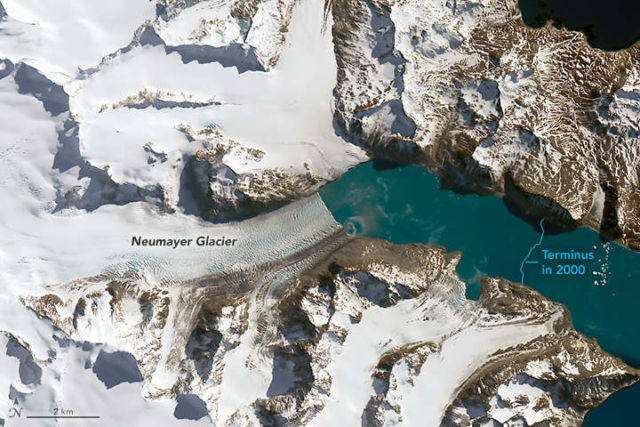 The image above taken on September 14, 2016, shows Neumayer Glacier. In the past 16 years, Neumayer has retreated more than 4 kilometers (2.5 miles). Like other large glaciers on the island, Neumayer is a tidewater glacier—that is, it flows down into the ocean. Roughly 30 kilometers (20 miles) to the southeast of Neumayer, on the same side of the island, Hindle Glacier has also retreated markedly since 2000—more than 3 kilometers (2 miles). Like Neumayer, Hindle used to merge with another glacier (Ross).
Image Credit: NASA Earth Observatory images by Joshua Stevens, using Landsat data from the U.S. Geological Survey.  Caption: Pola Lem
source NASA Earth Observatory