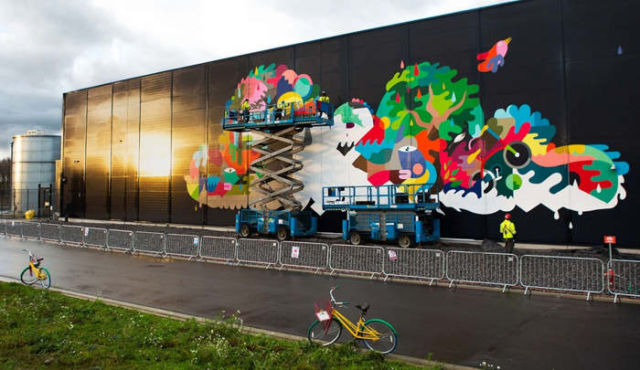 the exterior walls of a few of Google's data centers, reimagined by artists, bringing a bit of the 'magic from the inside to the outside.'   Watch in the video the Data Center Mural Project…
"Whether it's sharing photos, searching the web, or translating languages, billions of requests are sent to 'the cloud' every day," VP of Google Data Centers Joe Kava explains.
In Mayes County, Oklahoma, digital artist Jenny Odell's mural is made up of Google Maps satellite imagery. Her mural artwork focuses on types of infrastructure that enable the flow of goods, power and information—not unlike data centers themselves.

Belgium local street artist Oli-B took inspiration from "the cloud" for his colorful mural on the outside of our St. Ghislain data center. He's painted clouds that include elements specific to the region, the data center and the people who run it—including the sheep that roam the data center grounds and a balloon from the annual festival L'Ascension à Saint-Ghislain.
source googleblog,  Google