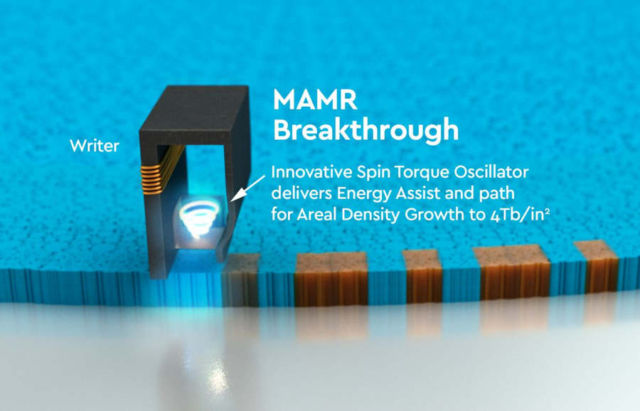 Western Digital unveils next-generation technology in magnetic recording, to preserve and access the next decade of big data.
Western Digital announced a breakthrough in microwave-assisted magnetic recording (MAMR) technology, able to build a 40TB hard drive.
Above, Western Digital's MAMR Breakthrough.  Image credit Western Digital
At an event held at the company's headquarters in Silicon Valley, included a demonstration of the world's first microwave-assisted magnetic recording (MAMR) HDD and presentations from company executives and the inventor of MAMR technology, Professor Jimmy Zhu from Carnegie Mellon University.
The company also showcased advancements in micro actuation and Damascene recording head technology. It expects to begin shipping ultra-high capacity MAMR HDDs in 2019 for use in data centers that support Big Data applications across a full range of industries.
Mike Cordano, president and chief operating officer at Western Digital, said:
"As the volume, velocity, variety, value and longevity of both Big Data and Fast Data grow, a new generation of storage technologies are needed to not only support ever-expanding capacities, but ultimately help our customers analyze and garner insights into our increasingly connected universe of data."
MAMR is one of two energy-assisted technologies that Western Digital has been developing for years.
source Western Digital