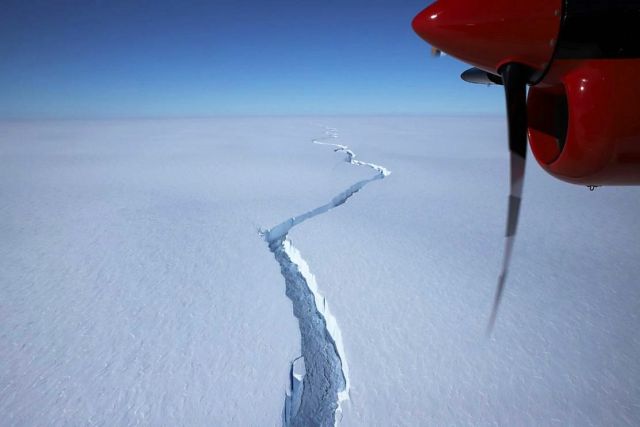 A huge iceberg (1270 km²) the size of the county of Bedfordshire has broken off the 150-m thick Brunt Ice Shelf, in Antarctica.
this happened almost a decade after scientists at British Antarctic Survey (BAS) first detected growth of vast cracks in the ice.
Top image: North Rift crack photographed by Halley team in January 2021
The glaciological structure of this vast floating ice shelf is complex, and the impact of 'calving' events is unpredictable. In 2016, BAS took the precaution of relocating Halley Research Station 32 km inland to avoid the paths of 'Chasm 1' and 'Halloween Crack'.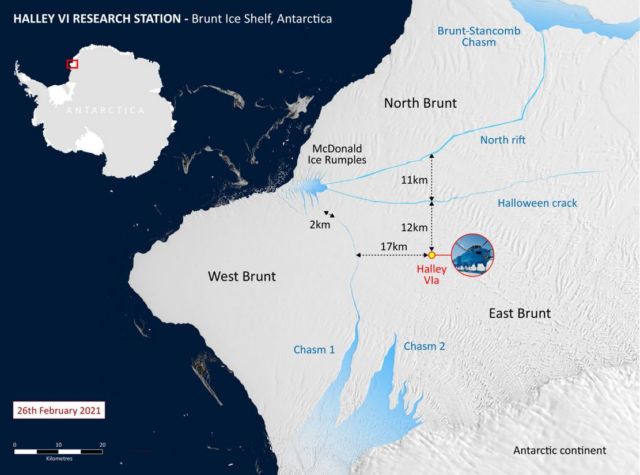 Map of Brunt ice shelf and Halley Research Station
Professor Dame Jane Francis, Director of British Antarctic Survey says:
"Our teams at BAS have been prepared for the calving of an iceberg from Brunt Ice Shelf for years. We monitor the ice shelf daily using an automated network of high-precision GPS instruments that surround the station, these measure how the ice shelf is deforming and moving. We also use satellite images from ESA, NASA and the German satellite TerraSAR-X. All the data are sent back to Cambridge for analysis, so we know what's happening even in the Antarctic winter, when there are no staff on the station, it's pitch black, and the temperature falls below minus 50 degrees C (or -58F)."
source British Antarctic Survey