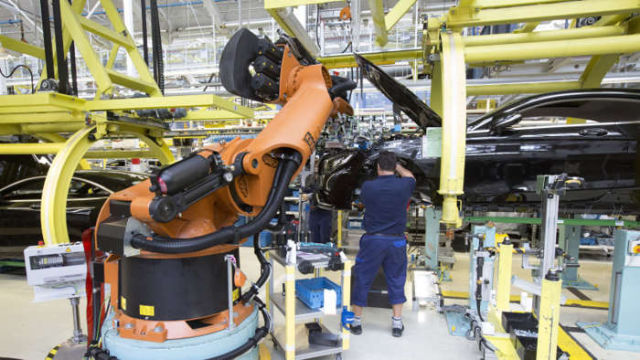 Mercedes-Benz replaces robots with people on one of its assembly line.
According to a new survey 1.3 million industrial robots, will be added in factories by 2018. But Mercedes is now replacing robots with people on an assembly line to make custom cars.
The automation of the fourth industrial revolution is accelerating: By 2018, around 1.3million industrial robots will be entering service in factories around the world. In the high-revenue automotive sector, global investments in industrial robots increased by a record-breaking 43 percent (2013-2014) within one year. Viewed on a cross-sector basis, the international market value for robotic systems now lies at around 32 billion US dollars. So says the 2015 World Robot Statistics, issued by the International Federation of Robotics (IFR).
Joe Gemma, President of the International Federation of Robotics, said:
"The robotic boom is laying down an important milestone in the realisation of the fourth international revolution. With their digital interfaces, industrial robots can be seamlessly integrated into the networked structures of smart factories. This is a benefit exploited by highly automated economies and by countries adopting a new industrial focus. Further impetus is coming into the form of the technological breakthrough in human-robot collaboration: Robotic workers will in future be found working hand-in-hand with human staff, helping to replace traditional, rigid production processes with flexible structures."
Mercedes is planing to add 30 more models by end of the decade.
via dailymail
source prnewswire