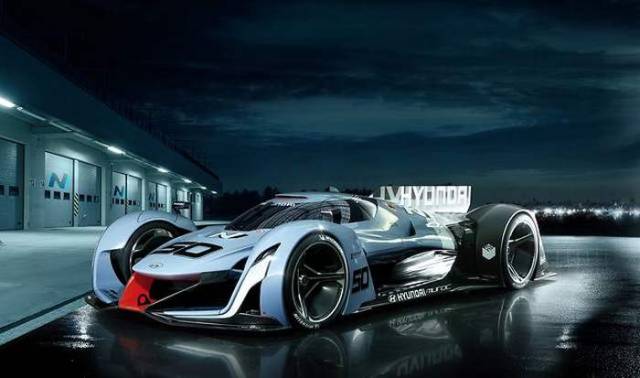 Hyundai Motor presents N 2025 Vision Gran Turismo at the 2015 Frankfurt International Motor Show, created exclusively for PlayStation®'s Gran Turismo video game series, the concept car boasts total power of 884 PS.
Images credit Hyundai
The Hyundai N 2025 Vision Gran Turismo concept shows a global audience the brand's unique perspective on future performance characteristics.
The Hyundai N 2025 Vision Gran Turismo's powertrain is based on world's first mass-produced Hyundai hydrogen fuel cell system, highlighting Hyundai Motor's passion for performance and sustainability.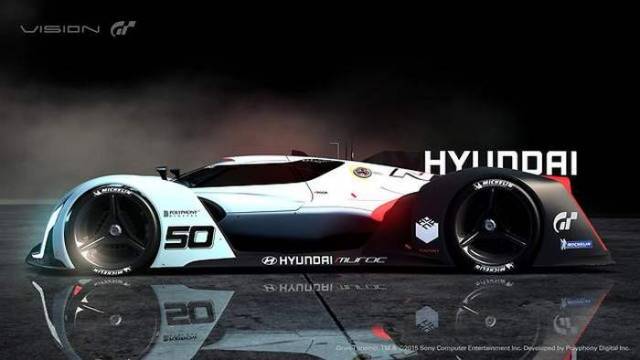 The total system output is 650 kW (884 PS), with the dual fuel cell stacks providing 500 kW (680 PS), and the super capacitor system generating an additional 150 kW (204 PS) by using energy regeneration when braking. This remarkable power is delivered through four high-powered independent in-wheel motors, which provide uncompromised traction and immediate response.
The compact, lightweight fuel cell stacks and rigid CFRP monocoque structure help to keep weight down to 972 kg, giving it a power-to-weight ratio that rivals the most exotic supercars in the world. Combined with a low center of gravity, this power and performance sets the car up to perform on the most challenging of race tracks, encapsulating the thrilling premise of N cars.
As air flows through Hyundai Motor's trademark hexagonal grille to the boat-shaped underbody structure, the tube-type underflow air supply duct connected to the rear minimizes pressure to the underbody to produce maximum downforce. In addition, the air brakes activate according to speed and brake usage as well as reduce drag.
Although the Hyundai N 2025 Vision Gran Turismo is based on eco-performance technology, the vehicle will strike a chord with enthusiasts merely by the deep growl of its powertrain. The sounds from the air blower's turbine that spins at around 200,000 rpm, the unique frequency of fuel cell stacks, the purging sound from the hydrogen cooling system and the high-pitched in-wheel motor sound harmoniously combine to produce a distinct race car rumble, further thrilling the driver.
source Hyundai