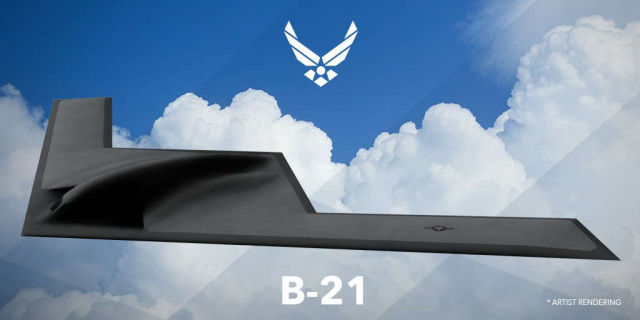 This is the first image of the B-21 future Long Range Strike bomber, just released from the U.S. Air Force.
This is the Northrop Grumman B-21, formerly known as the Long Range Strike Bomber, or LRS-B for short.
Image credit Air Force
Secretary of the Air Force Deborah Lee James Lee James revealed the first rendering of the Long Range Strike Bomber, designated the B-21, at the Air Force Association's Air Warfare Symposium Feb. 26 in Orlando, Fla., and announced the Air Force will be taking suggestions from Airmen to help decide the name of the bomber.
James, said:
"This aircraft represents the future for our Airmen, and (their) voice is important to this process. The Airman who submits the selected name will help me announce it at the (Air Force Association) conference this fall."
While there are no existing prototypes of the aircraft, the artist rendering is based on the initial design concept. The designation B-21 recognizes the LRS-B as the first bomber of the 21st century.
source af.mil