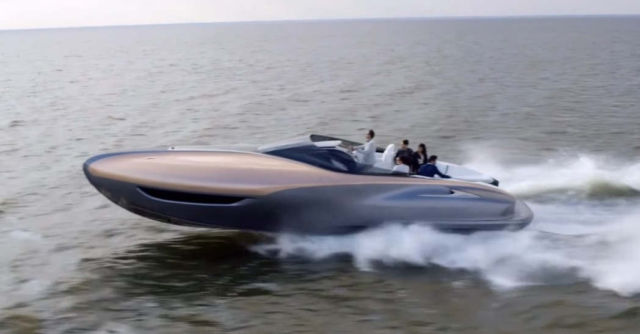 Check out in the video this cool sport yacht concept by Lexus Can.
The concept's twin V-8 gasoline engines produce a total of 950 hp and enable a top speed of 49 mph. The engine is based on the one that powers Lexus' new LC 500 coupe. A "turbo-boost" option at the helm adds 1,000 rpm over the rev limiter for a heart-pounding burst of speed.
The sport yacht hull is made entirely of carbon-fiber reinforced plastic, saving about 2,200 pounds. A touchscreen in the center of the steering wheel gives the captain control of the boat's navigation and entertainment systems.
Yoshira Yoshihiro Sawa, the head of design at Lexus, explains that were inspired by the brand's LFA supercar. He noted the large, aggressive-looking forefoot, and the way the exterior lines run seamlessly from stern to bow, without any sharp edges.
"The lines of the boat are never interrupted. They just flow from one end to the other."
[Youtube]