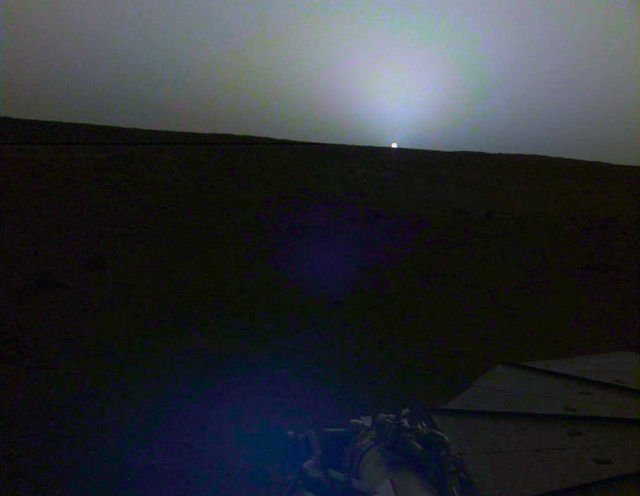 InSight lander captures a sunset on the Red Planet, taken around 6:30 p.m. Mars local time.
NASA's InSight lander used the Instrument Deployment Camera (IDC) on the end of its robotic arm to image this sunset on Mars on April 25, 2019, the 145th Martian day, or sol, of the mission.
This color-corrected version more accurately shows the image as the human eye would see it. See both the "raw" and color-corrected images.
The first mission to send back such images was the Viking 1 lander, which captured a sunset on Aug. 21, 1976; Viking 2 captured a sunrise on June 14, 1978. Since then, both sunrises and sunsets have been recorded by the Spirit, Opportunity and Curiosity rovers, among other missions.
NASA's Jet Propulsion Laboratory manages InSight for the agency's Science Mission Directorate. InSight is part of NASA's Discovery Program, managed by the agency's Marshall Space Flight Center in Huntsville, Alabama. Lockheed Martin Space in Denver built the InSight spacecraft, including its cruise stage and lander, and supports spacecraft operations for the mission.
Image Credit: NASA/JPL-Caltech
Editor: Sarah Loff