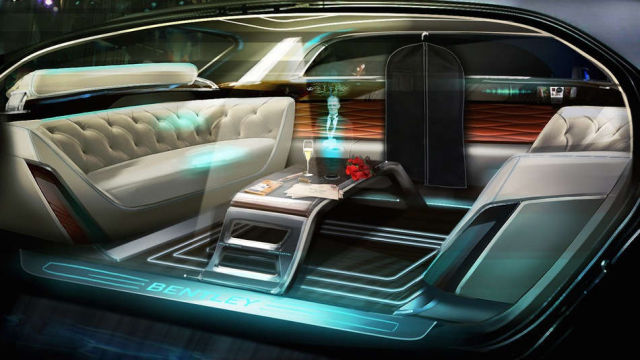 Luxury car manufacturer Bentley, imagines the autonomous car of the near future with holographic butler.
Bentley has just released a concept, on how the luxury autonomous car would look like, including a holographic butler.
Bentley design director, Stefan Sielaff told Car and Driver:
"We have had the equivalent of autonomous cars for the last 100 years in Bentley, from the point of view of the rear seat passenger who had a driver. The way of living is going to change dramatically in the next 20 years. If you look at the world population, three quarters will live in megacities. Maybe a luxury customer will be part of a fast-lane club and the swarm
[of other autonomous vehicles] will get out of the way when the big shark arrives — we are playing with ideas here."
Stefan Sielaff told Dezeen:
"Large sections of the human population will be living in megacities in the next 10 to 20 years, which will lead to congestion. This will only be overcome by autonomous or part-autonomous cars.
For us of course the question is how a luxury experience is going to happen in such an environment. Maybe the Bentley customer of the future is sitting in his autonomous Bentley but he paid for a fast lane on top."