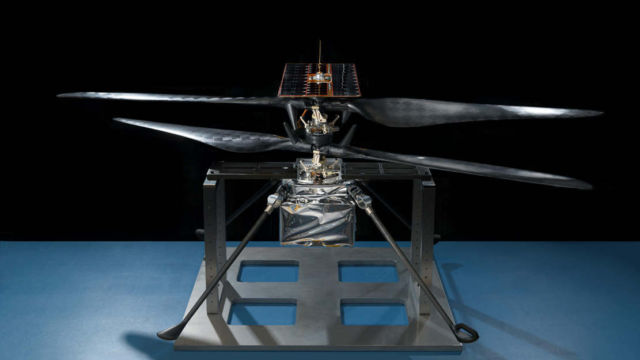 NASA's Mars Helicopter flight demonstration project has passed a number of key tests with flying colors. In 2021, the small, autonomous helicopter will be the first vehicle in history to attempt to establish the viability of heavier-than-air vehicles flying on another planet.
This image of the flight model of NASA's Mars Helicopter was taken on Feb. 14, 2019, in a cleanroom at NASA's Jet Propulsion Laboratory in Pasadena, California. The aluminum base plate, side posts, and crossbeam around the helicopter protect the helicopter's landing legs and the attachment points that will hold it to the belly of the Mars 2020 rover.  Image Credit: NASA/JPL-Caltech
"Nobody's built a Mars Helicopter before, so we are continuously entering new territory," said MiMi Aung, project manager for the Mars Helicopter at NASA's Jet Propulsion Laboratory in Pasadena, California. "Our flight model – the actual vehicle that will travel to Mars – has recently passed several important tests."
The laws of physics may say it's near impossible to fly on Mars, but actually flying a heavier-than-air vehicle on the Red Planet is much harder than that. NASA's Mars 2020 mission will deliver a technology demonstration that will put the idea to the test — a helicopter that will perform controlled flight on Mars.
Watch Live with this 24-hour webcam as engineers build NASA's next Mars rover:
source NASA