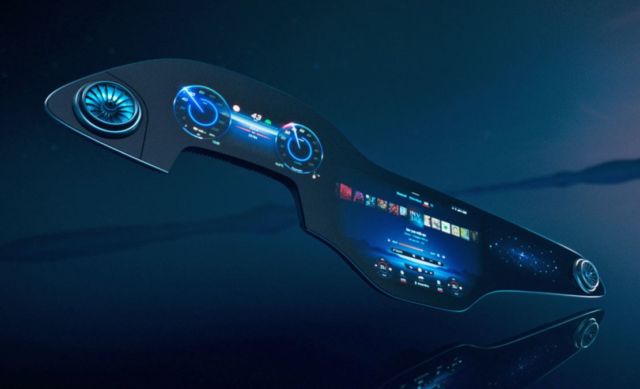 The big in-car cinema. EQS with unique MBUX (Mercedes-Benz User Experience) Hyperscreen, an AI assistant for the driver and front passenger.
Visually impressive, radically easy to operate and extremely eager to learn: the MBUX Hyperscreen, who is constantly learning, thanks to artificial intelligence, is one of the highlights in the EQS.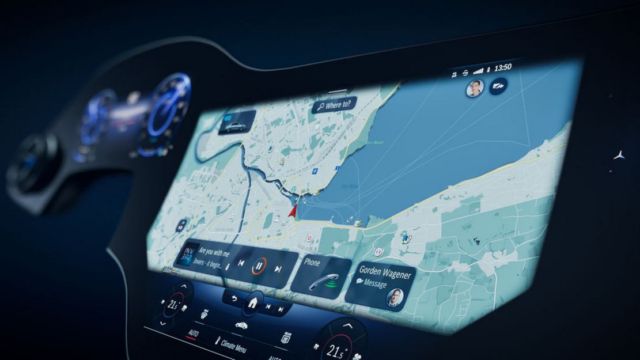 It represents the emotional intelligence of the all-electric upper-class model: The large, curved screen unit stretches almost the entire width from the left to the right A-pillar. In addition to its sheer size, the high-quality, detail-loving design also provides a "wow" effect. This aesthetic high-tech look is the emotional dimension of the MBUX hyperscreen. Added to this is artificial intelligence (AI): With software capable of learning, the display and operating concept adapts completely to its user and makes personalised suggestions for numerous infotainment, comfort and vehicle functions. Thanks to the so-called zero layer, the user does not have to scroll through submenus or give voice commands. The most important applications are always offered in a situational and contextual way at the top level in view. In this way, numerous operating steps are taken away from the EQS driver. And not only him: The MBUX Hyperscreen is also an attentive assistant for the passenger. It receives its own display and operating area.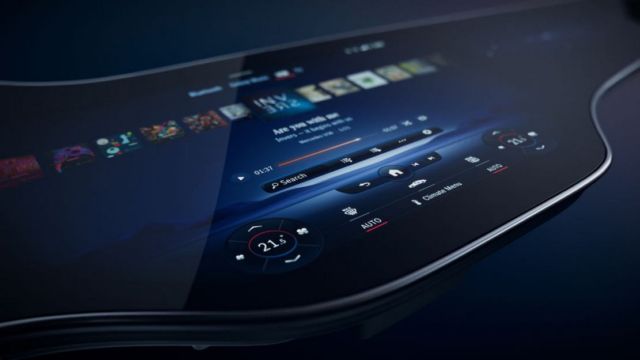 MBUX has radically simplified the operation of a Mercedes-Benz. Unveiled in 2018 in the current A-Class, there are now more than 1.8 million Mercedes-Benz passenger cars equipped with it on the roads worldwide. The Van division is also relying on MBUX. A few months ago the second generation of this learn-capable system debuted in the new S-Class. The next big step now follows in the form of the new EQS and the optionally available MBUX Hyperscreen.
"With our MBUX Hyperscreen, a design vision becomes reality" says Gorden Wagener, Chief Design Officer Daimler Group. "We merge technology with design in a fascinating way that offers the customer unprecedented ease of use. We love simplicity, we have reached a new level of MBUX."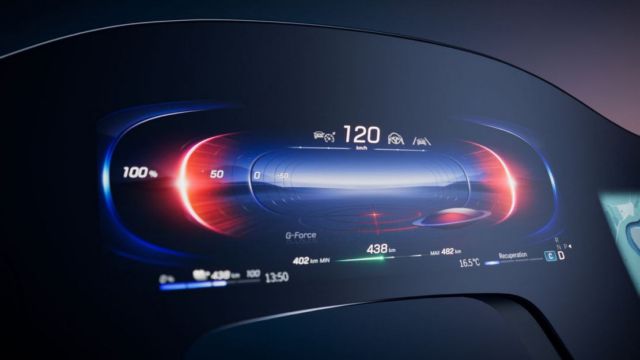 "The MBUX Hyperscreen is both the brain and nervous system of the car", says Sajjad Khan, Member of the Board of Management of Mercedes-Benz AG and CTO. "The MBUX Hyperscreen continually gets to know the customer better and delivers a tailored, personalised infotainment and operating offering before the occupant even has to click or scroll anywhere."
Images credit Daimler
source Daimler