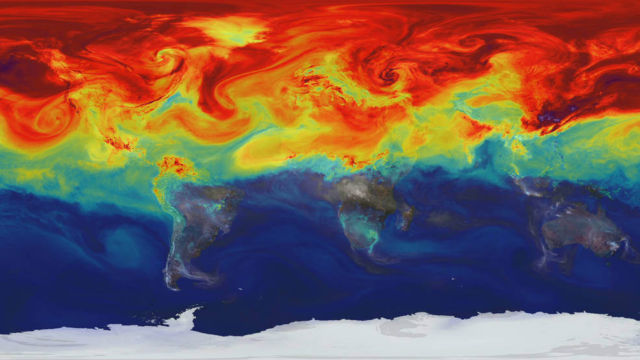 NASA and the Federal Emergency Management Agency (FEMA) to Host Alliance for Climate Action Series in October.
NASA and FEMA will co-host the Alliances for Climate Action, a virtual series to address rising demand for accurate, timely, and actionable information at a time of rapid global climate change. The first event, featuring NASA Administrator Bill Nelson, will take place noon EDT Wednesday, Oct. 6, and will livestream on the agency's website.
Image: NASA supercomputer model shows how greenhouse gases like carbon dioxide (CO2) – a key driver of global warming – fluctuate in Earth's atmosphere throughout the year. Higher concentrations are shown in red.  Credits: NASA's Scientific Visualization Studio / NASA's Global Modeling and Assimilation Office
Attendees throughout the series will learn about progress in climate research, engage with industry peers, and identify opportunities for collaboration. The series is free an open to the public.
Nelson and other leaders in government, including elected officials, as well as representatives from nongovernment organizations and industry, will discuss opportunities during the series to help address and mitigate climate change through research and action.
"At NASA, we will always look upward and push out into the cosmos, but central to our mission is protecting the planet we call home," said Nelson. "Right now, NASA's researchers, scientists and technicians are on the forefront of our nation's climate resiliency, collecting and sharing data that is used to respond to extreme weather events and predict those to come."
source NASA