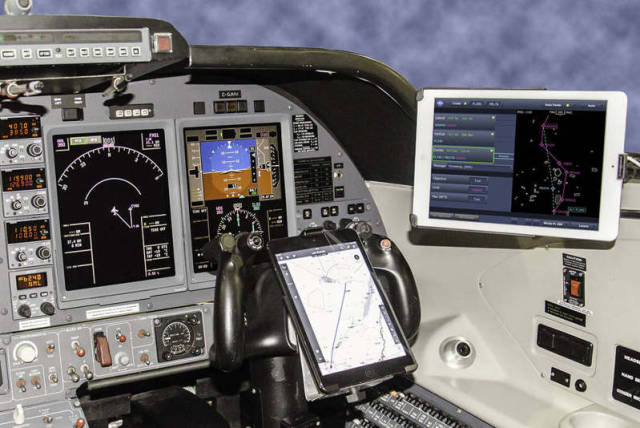 A new application developed by NASA, aims to save commercial airlines time and fuel.
The TASAR application developed by NASA, designed to help air carriers save time and reduce fuel consumption and carbon emissions, will be soon tested by two passenger airlines.
Above: The TASAR application can be seen in the far right screen.   Credits: NASA/David C. Bowman
During the next three years, Virgin America and Alaska Airlines will use the Traffic Aware Planner (TAP) application, to make "traffic aware strategic aircrew requests" (TASAR).
David Wing, TASAR project lead at NASA's Langley Research Center in Hampton, Virginia, said:
"TAP connects directly to the aircraft avionics information hub on the aircraft. It reads the current position and altitude of the aircraft, its flight route, and other real-time information that defines the plane's current situation and active flight plan. Then it automatically looks for a variety of route and/or altitude changes that could save fuel or flight time and displays those solutions directly to the flight crew."
TAP also can connect with the plane's Automatic Dependent Surveillance-Broadcast (ADS-B) receiver and scan the ADS-B signals of nearby air traffic to avoid potential conflicts in any proposed flight path changes, making it easier for air traffic controllers to approve a pilot's route change request.
Virgin America Chief Operating Officer Steve Forte in Burlingame, California, said:
"We're excited to partner with NASA to test this new technology that has the potential to help reduce fuel consumption and carbon emissions and save our guests time in the air."
Tom Kemp, Alaska Airlines' vice president of operations in Seattle, Washington, said:
"Up until now there has been no way to deliver comprehensive wind and congestion data to pilots in near-real time. TASAR is a 'super app' that will give our pilots better visibility to what's happening now versus three hours earlier when the flight plan was prepared."
source NASA