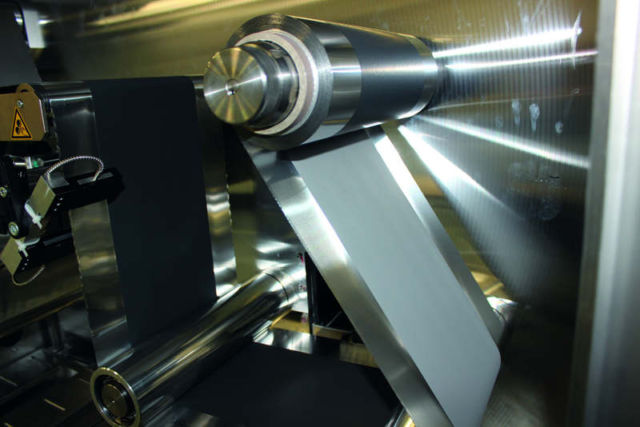 Electric cars cloud have 1000 km range thanks to a new battery concept.
Fraunhofer scientists by stacking large cells on top of one another, could provide more power to vehicles
Above, production of the bipolar electrode on a pilot scale.  Credit Fraunhofer IKTS
Initial tests in the laboratory have been positive. In the medium term, the project partners are striving to achieve a range of 1000 kilometers for electric vehicles.
Depending on the model, electric cars are equipped with hundreds to thousands of separate battery cells. Each one is surrounded by a housing, connected to the car via terminals and cables, and monitored by sensors. The housing and contacting take up more than 50 percent of the space.
The entire structure for the housing and the contacting is therefore eliminated. As a result, more batteries fit into the car.
"With our new packaging concept, we hope to increase the range of electric cars in the medium term up to 1000 kilometers," says Dr. Mareike Wolter, Project Manager at Fraunhofer IKTS.
via newatlas
source fraunhofer