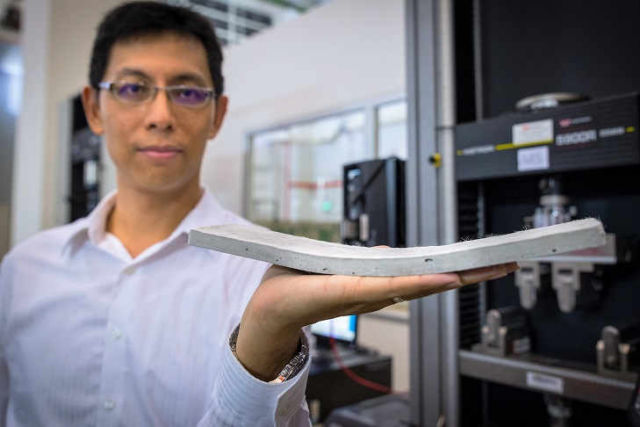 Scientists unveiled a new bendable concrete that is stronger and more durable.
Nanyang Technological University (NTU Singapore) scientists from the NTU-JTC Industrial Infrastructure Innovation Centre (I³C), have invented a new type of concrete called ConFlexPave.
The concrete is bendable yet stronger and longer lasting than regular concrete which is heavy, brittle and breaks under tension.
This innovation allows the creation of slim precast pavement slabs for quick installation, thus halving the time needed for road works and new pavements. It is also more sustainable, requiring less maintenance.
NTU Professor Chu Jian, Interim Co-Director of the NTU-JTC I³C, said:
"We developed a new type of concrete that can greatly reduce the thickness and weight of precast pavement slabs, hence enabling speedy plug-and-play installation, where new concrete slabs prepared off-site can easily replace worn out ones."
Mr Koh added:
"Through collaborations with universities such as NTU in research and development of disruptive technologies, JTC hopes to pioneer cutting-edge industrial infrastructure solutions to address challenges faced by Singapore and its companies such as manpower and resource constraints. We will continue to open up more of our buildings and estates to test-bed and if successful, implement such new solutions."
via gizmag
source media.ntu.edu